Congress leader Tom Vadakkan on Thursday, March 14, joined the Bharatiya Janata Party (BJP) in presence of Union Minister Ravi Shankar Prasad. Tom Vadakkan, considered to be a close aide of UPA chairperson Sonia Gandhi, accused the Congress party of questioning the integrity of armed forces.
Vadakkan said that he believed in Prime Minister Narendra Modi's development narrative. "I am deeply hurt and that is why I am here," said Tom Vadakkan. He also said the reason why he left the party was Congress's reaction to Pulwama attack, in which over 40 CRPF troopers were killed. "If a political party takes such a position that is against the country then I'm left with no option but to leave the party," Vadakkan said.
BJP President Amit Shah also welcomed him with flowers. Vadakkan thanked PM Modi and Amit Shah, saying they had wished him good luck.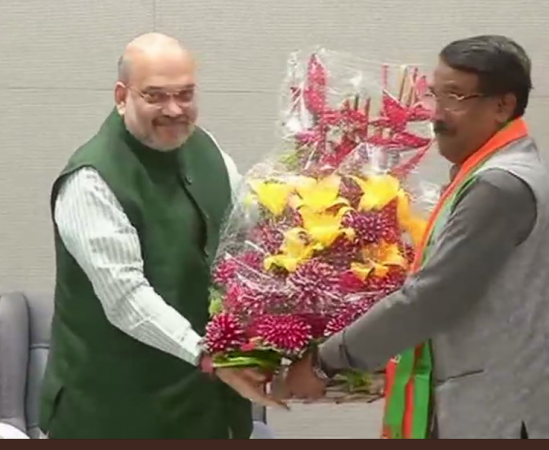 However, until yesterday, Tom Vadakkan retweeted Priyanka Gandhi's tweet. The announcement of Tom Vadakkan joining the BJP comes less than a month for the upcoming Lok Sabha 2019 elections. Meanwhile, at the time of filing the story, Tom Vadakkan's Twitter account showed that he was still with the Congress party. Here is his official Twitter account.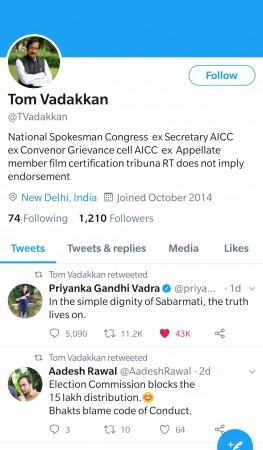 Vadakkan, who had been with the Congress for nearly two decades, had never been part of electoral politics. A month back, Vadakkan took a jibe at the BJP via social media. The leader said: "Once you join BJP all your crimes are cleaned" Vadakkan said this in reply to Trinamool's Mukul Roy joining BJP who is an accused in the Saradha scam. Vadakkan had been keen on a ticket to contest the Lok Sabha 2019 polls and the BJP is likely to have guaranteed him one.

Vadakkan was the second key opposition leader to cross over to the BJP on Thursday after Arjun Singh, Trinamool Congress lawmaker from Bengal's Bhatpara assembly seat switched sides in New Delhi today afternoon.