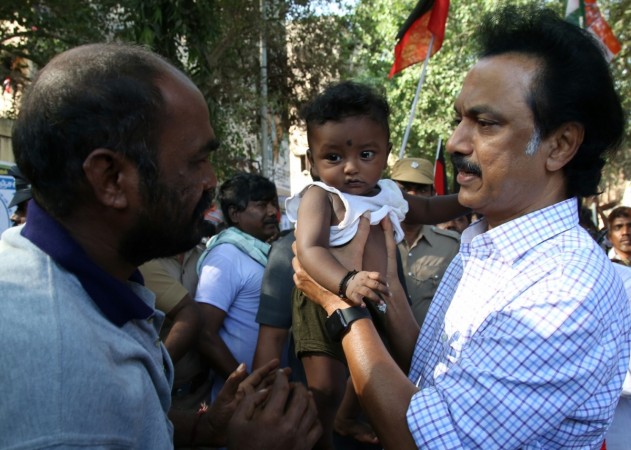 K Karunanidhi's son MK Stalin has been elected working president of the Dravida Munnetra Kazhagam (DMK), succeeding his father. The development came at the party's general council meeting.
This marks a change of guard in Tamil Nadu politics. The All India Anna Dravida Munnetra Kazhagam (AIADMK) has seen Sasikala Natarajan take over after J Jayalalithaa — her predecessor and arch political rival of Karunanidhi — died on December 5, 2016.
Karunanidhi had already named Stalin as his political heir, following his prolonged illness. Karunanidhi has in fact been hospitalised multiple times over the past few months, giving rise to speculation that he might step aside from the post of DMK chief and let his son take the lead.
This now means the fight in the southern state will be primarily between Sasikala and current TN Chief Minister O Panneerselvam on behalf of the AIADMK and Stalin leading the DMK. Stalin might just have the upper hand here, because the AIADMK is already showing tear lines, with some party members and supporters pushing for Sasikala to be chief minister.
Who is MK Stalin?
Named after the Soviet leader, MK Stalin is the third son of K Karunanidhi, from his second wife Dayalu Ammal. He is her second son. Stalin was deputy chief minister of Tamil Nadu from 2009 to 2011, when the DMK was in power. That was the first time the state had got the post.
Stalin is believed to have begun his political career at the age of 14, and was even imprisoned for protesting against the State of Emergency imposed by Indira Gandhi. He later went on to become the 44th mayor of Chennai in 1996.
He received precedence among his siblings to become party prsident because Karunanidhi has expelled two of his sons — MK Azhagiri and MK Muthu — from the party for various reasons.