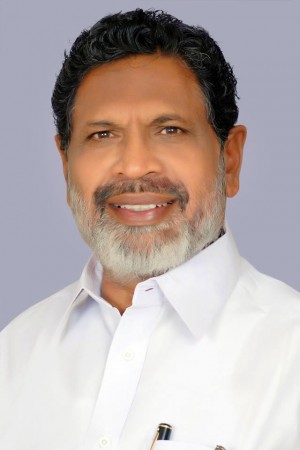 Kerala Speaker G Karthikeyan passed away on Saturday, 7 March in Bengaluru. He was 66.
Karthikeyan was undergoing treatment for liver cancer at Health Care Global (HCG) hospital in Bengaluru and his health condition became critical this morning around 10.30 am.
Bengaluru: Kerala Assembly Speaker G Karthikeyan's mortal remains outside the hospital, to be taken to Kerala pic.twitter.com/Mntxaea8hD

— ANI (@ANI_news) March 7, 2015
His body has arrived in Thiruvananthapuram on Saturday evening in a special aircraft and will be kept at his official residence 'Neeti', where party workers, friends and close acquaintances will be allowed to pay homage.
As the sun sets, the mortal remains of Kerala Assembly Speaker G.Karthikeyan return to Thiruvananthapuram. Gr8Sadness pic.twitter.com/fGDcg6msGw

— Shashi Tharoor (@ShashiTharoor) March 7, 2015
As per the protocol, on Sunday his body will be kept at Kerala assembly, followed by Secretariat Durbar Hall, KPCC, and then will be taken to his Aryanadu constituency and his residence 'Abhayam'. His last rites will be held at Shanthi Kavadam in the capital city with full state government honours .
Meanwhile, Kerala government has declared a seven-day mourning in the state.
"The state government has declared a seven-day mourning. Today and tomorrow, the flag will fly at half mast," says Kerala CM.
Kerala Chief Minister Oommen Chandy and other ministers have cancelled their official programmes.
MK Muneer, MLA KM Shaji, Abdurahiman Randathani have reached Bengaluru.
Home Minister Ramesh Chennithala, PK Kunhalikutty, KPCC General Secretary G Sudhakaran, MLA Benny Behanan are reportedly on their way to the city.
The veteran Congress leader had earlier gone to the United States in October 2014, where he received medical treatment from Mayo Clinic. He had also undergone ayurvedic treatment in Thiruvananthapuram and had consulted doctors in AIIMS, New Delhi and CMC, Vellore.
Karthikeyan, who hails from Thiruvananthapuram, has been in politics since his college days and has become a legislator six times. He was also selected as cabinet minister twice.
Many have expressed their condolences to the veteran leader.
PMO India
My condolences to the family & well-wishers of Kerala Assembly Speaker, Shri G.Karthikeyan on his demise. May his soul rest in peace: PM
Shri G.Karthikeyan will be remembered as a grassroots leader who dedicated his life to serving the people of Kerala:
"Karthikeyan's death is a huge loss for Kerala Congress," says AK Antony.
"I feel like I lost my own brother," says PC Chacko.
"He was a calm person and had influenced many people in Kerala. His death is a huge loss for Kerala," says opposition leader VS Achuthananthan.
"I knew him for the past 40 years, he was a lovable elder brother for me and had always encouraged me. Personally, his death is a huge loss for me," says K Muraleedharan.
Shashi Tharoor
Kerala Assembly Speaker G.Karthikeyan passes away in Bengaluru after a long struggle with cancer. Mourning a good man..
Manju Warrier
My heartfelt condolences to the family of Honorable speaker G Karthikeyan who passed away this morning.May his soul rest in peace.He was someone always appreciative of me and my work.Kerala history will always remember you as a great human being and a through legislator.
Nisha
ts so sad to hear that dipature .... Adieu G.karthikeyan sirr... MAy his soul. rest in peace :( :/ :'(
Jithin Kumar
My hearty Condolences to our beloved GK sir Speaker G Karthikeyan passed away. May his soul Rest in Peace
Harish Menon
Kerala Assembly speaker G Karthikeyan dies in a hospital at Bengaluru. The 66 year old was suffering from liver cancer.