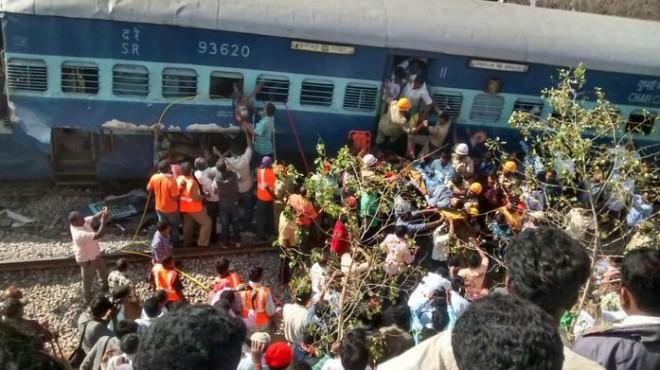 Twelve people were killed and over 150 injured in a freak train accident near Hosur, Tamil Nadu, when the Bangalore-Ernakulam Express derailed on Friday morning. The mishap took place at around 7:45 am.
The incident, which led to the bogies going off track, occurred after the engine of the train caught fire. The officials however have denied any fire breaking out, reports NDTV.
Ambulances from both Tamil Nadu and Karnataka have been rushed to the spot.
Rescue operations are underway and the injured have been taken to hospital. The toll is expected to rise with many still trapped in the coaches.
Reacting to the tragic turn of events, Railway Minister Suresh Prabhu ordered an inquiry into disaster and announced a compensation of Rs. two lakh for the families of those killed in the mishap, while the severely injured would be given Rs. 50,000.
I am on way to Bangalore to visit accident site to help all stranded. All possible help will be rendered to families affected

— Suresh Prabhu (@sureshpprabhu) February 13, 2015
"Unfortunate rail accident in Karnataka, Boulder fell on track in Ghat section, train hit it. directed all sr officers to rush with full help," Prabhu tweeted.
Several trains have been cancelled till the area is cleared up. Union minister Sadananda Gowda has reached the scene of the accident near the Karnataka-Tamil Nadu border.
Gowda said that medical help had been rushed and that the Railway Board chairman had been directed to evacuate all stranded passengers.
#AlwaysWithBJP RSS Swayamsevaks extend helping hand in rescue operation at Anekal Train accident site-https://t.co/yPVB893Vwu #MediaTakeNote

— MajRoshan #WithModi (@RoshanSdrprop) February 13, 2015
According to sources, the section between Anekal and Hosur was a slow one and was also a part of elephant corridor and hence trains moved slowly. One of the reasons attributed for the mishap was the train coming to an abrupt halt, reports The Hindu.
In a contradictory version of the incident a senior railway official said, "Initial reports suggest a boulder may have fallen on the track."
One of the eyewitness Vinay said that three to four bogies collapsed, and some people were crushed under them. He claimed to have jumped out of the window of his coach to avoid tragedy.
Another passenger travelling in the train, Cyriac Mathew, said, "Around nine coaches bogies derailed. The worst affected was the coach D-8. I could see the bodies of two men and a woman in the coach...," said Mathew.
"The most affected coach is now being cut open," said Mathew, who is a regular on the train. He said the train was not very crowded, reports IANS.
Helpline numbers
Thiruvananthapuram - 0471 2321205, 2321237, 09746769960 ,
Ernakulam-0484-2100317, 0813699773, 09539336040
Ernakulm town-0484-2398200
Trichur-04872424148, 2430060,
Alwy-0484-2624143