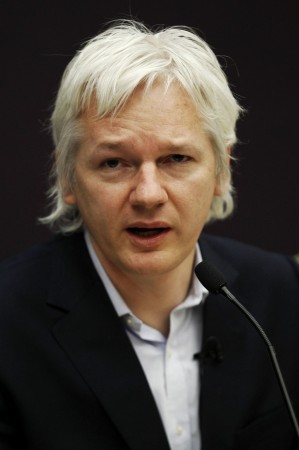 WikiLeaks founder Julian Assange said on Monday that he would leave the Ecuadorian Embassy in London "soon," raising questions whether he is going to surrender.
Assange has been confined in the embassy for more than two years to avert arrest on charges of rape and sexual assault.
The whistleblower is bound to face immediate arrest if he leaves, as warrants have been issued against him in Sweden.
"I am leaving the embassy soon, but perhaps not for the reasons the Murdoch Press and Sky News are saying at the moment," Assange said at a press conference on Monday.
The 43-year-old crusader against the US NSA and other secret service organistions' infringements of privacy, had sought asylum in the embassy in June 2012.
He fears that he will be extradited to the United States based on charges related to publications by WikiLeaks, according to The Guardian.
WikiLeaks had published classified military and diplomatic documents in 2010, blowing the lid off American involvement in Iraq and Afghanistan. He could face 35 years in prison for the leaks.
Reports suggested that Assange was facing health problems, with a Sky News Crime Correspondent stating that "He's said to have a heart condition, a chronic lung complaint, bad eyesight, high blood-pressure, all as a result of ... two years in the Ecuadorian embassy."
According to The Telegraph, Assange has developed a potentially life-threatening heart defect and a chronic lung condition during his confinement.
While Assange did not clarify about his health issues, he said that his living conditions over the last two year had become "an environment in which any healthy person would find themselves soon enough with certain difficulties".
Ecuador's foreign minister Ricardo Patin had earlier accused the British government of doing little to find a diplomatic solution for Assange's confinement
"The British government hasn't taken any steps in that direction. Everyone around the world knows that the rights of Julian Assange have been violated," Patin told The Guardian.
"Two years is simply too long, it's time to free Julian Assange. It's time for his human rights to be respected," Patin said on Monday.
Reports cited that police officers have already been stationed outside the embassy and have bene ordered to arrest Assange if he leaves.