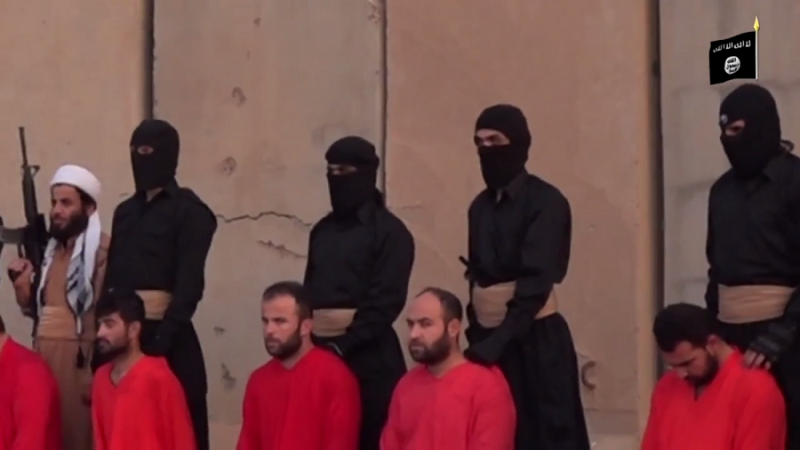 In a new video, the Islamic State has warned of beheading the 21 Peshmerga soldiers in a similar manner the militants had decapitated the 21 Coptic Christians from Egypt.
The propaganda video released on Saturday shows a total of 21 men, believed to be Peshmerga fighters captured by the militant outfit from the embattled Kirkuk.
The footage also features an Isis interview of the caged Peshmerga soldiers, who are said to be from influential Kurdish tribes including al-Jaff and Barazanchi. The video, titled "Healing the Chest of Those who Believe," is in Kurdish and carries Arabic subtitles.
In the end of the video, the Isis militants make the Peshmerga soldiers kneel on the ground as they screen the details of some of the captive soldiers. In one part, the Isis video reportedly flashes the beheading scenes taken from its earlier video.
The video ends with camera zooming in on the forlorn eyes of a Peshmerga soldier, as in the background, an Isis militant says - "To the Peshmerga, you should leave your jobs, or your fate will be like these, either the cage, or under the ground, is what awaits you."
Twitter Reactions: Peshmerga Soldiers
Latest #IslamicState video shows Peshmerga fighters captured & then locked in cages, parades in the streets. pic.twitter.com/0cEA7tE3mn /1

— Shaheen A. (@IStriv7r) February 22, 2015
In a new video #ISIS claims to have beheaded at least 21 captured #Kurdish #Peshmerga soldiers pic.twitter.com/yY5yKKPvEg — Mete Sohtaoğlu (@metesohtaoglu) February 22, 2015