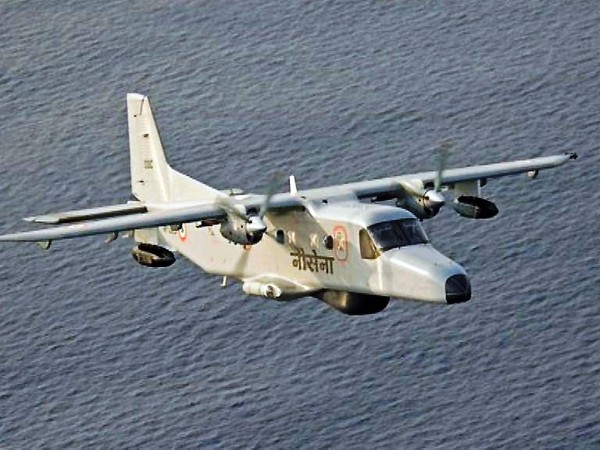 An Indian Navy ship has reportedly picked up signals believed to be from the Dornier aircraft that went missing earlier this week.
INS Sindhudhwaj, which joined the search operation on Friday, reportedly received beacon signals from the Indian Coast Guard's Dornier aircraft that has been missing since Monday night with three crew members on board.
"INS Sandhyak undertaking sub-surface search, detected intermittent transmission of 37.5 Khz, likely to be from the Sonar Locator Beacon (SLB) of the missing aircraft. The transmission is around the position where the Air Traffic Control (ATC) radar had lost contact of the aircraft" a defence ministry statement said.
The Dornier aircraft was last tracked on radar on Monday about 16 kilometres east off Chidambaram coast in Trichy.
Defence Ministry spokesperson Sitanshu Kar shared images of oil circles in the ocean in the search area, in what could be an indication that the Dornier aircraft may have crashed into the sea.
"A multi coloured sheen of oil in concentric circles was sighted which indicated oozing of oil. The sample of oil has been sent to the laboratory for analysis," the statement said.
#ICGDornier 1st Pic. Multi-coloured oil seen in concentric circles indicating oozing of oil in area under focus. pic.twitter.com/Cr8OQNTw6D

— Sitanshu Kar (@SpokespersonMoD) June 13, 2015
The Dornier aircraft had taken off from the Chennai airport on Monday evening for a surveillance sortie along the Tamil Nadu coast and Palk Bay. The last contact with the aircraft was made at 9 pm on Monday.
Deputy Commandant Vidyasagar, Deputy Commandant MK Soni and Navigator Deputy Commandant Subash Suresh were on board the aircraft.
The search for the missing aircraft was intensified over the last few days, with the Indian Navy also reportedly deploying a submarine for the search.