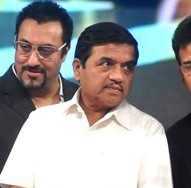 Former Maharashtra Home Minister and Nationalist Congress Party leader RR Patil, who had been fighting a long battle against oral cancer, passed away at Mumbai's Lilavati Hospital at around 4:30pm on Monday.
Patil was put on life support system in the hospital earlier on 16 February after his condition had deteriorated drastically.
He was on chemotherapy and had completed the fourth session of the treatment last month, following which the state of his health declined.
Prior to being admitted to Lilavati Hospital, Patil was undergoing treatment at Breach Candy Hospital for an extremely swollen jaw, which after few tests was revealed as oral cancer.
The NCP leader had left the state assembly session in Nagpur midway in December for his treatment for mouth cancer.
Patil who was fondly addressed as "Aaba" was born in a Maharashtrian village known as Anjani. He completed his BA LLB from Shantiniketan College Sangli.
Patil was sworn in as the home minister of Maharashtra in 2003 and completed his term in 2008. He was again appointed as the home minister for his second tenure in 2009 after the Congress with the help of NCP formed an allied government in the Maharashtra State Assembly.
Meanwhile, the Patil's death would be a major blow to the residents of his village Anjani, who had regularly been holding special prayer meetings for the speedy recovery of the NCP leader.