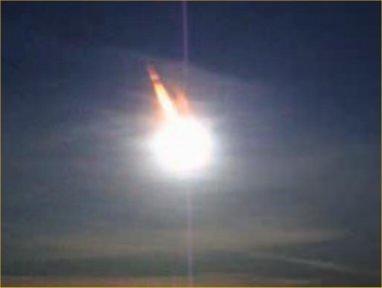 Many residents in Kerala have reported seeing fireballs in the sky after 10:30 pm on Friday, 27 February.
Kerala CM Oommen Chandy's office has said that these fireballs might be meteor shower, according to ReporterLive.
The fireball appeared with a noise in many parts of Kerala, including Ernakulam, Thrissur, Palakkad, Thiruvananthapuram, Kollam, Kozhikode, Malappuram and Kannur.
Some even reported that people felt minor earthquake in many parts of Ernakulam, including Fort Kochi, Vypin, Willington Island and Kolenchery.
Cabinet Minister Adoor Prakash has ordered an investigation on the matter and requested the residents not to panic.
Latest reports suggest that the suspected object might have fallen somewhere in central Kerala.
No casualties have been reported as of now.
Meanwhile, on Saturday morning, an impact crater has been spotted at Karimalloor village in Ernakulam district, which is believed to be caused by the fireball on Friday night.
"We have located a suspected impact crater at Karimalloor village in Ernakulam district and our team is rushing to the spot," State Disaster Management Authority's scientist Sekhar Kuriakose said, according to Business Standard.
Recently, similar incidents were reported in the US, Russia and various parts of Europe. NASA had explained that these could be the debris of the disintegrated Chinese rocket that was carrying the Yaogan Weixing-26 satellite.
"Few days ago fireball was seen across sky above Western US, which according to NASA was Chinese rocket debris," scientist Rajagopal Kammath said, according to Manorama Online.
More details awaited.
Check out the photos below:
Fire ball on #Kerala sky.! Followed by earthquake like feeling. Possible sonic boom followed by a meteorite explosion pic.twitter.com/V4rLKHzG0m

— Josey Devan YNWA LFC (@indophilia) February 27, 2015
Fireballs in the sky. Sightings over various places in kerala. No tremors reported.sightings last 2 sec. #awsome view pic.twitter.com/MkdIRkmjaQ — tezn thomas (@teznthomas) February 27, 2015
Check out the Twitter reactions below:
Athul
Josey Devan
a rocket explosion on sky cant create such a tremor. Seems lyk da unpredicted meteorite shower in Russia.#kerala
Srilaxmi
Whats happening to God's own country? Has dooms-day finally struck? But y r u chosen to b d first in row? #kerala#weird#UFO
Manoj
many friends in Kerala have confirmed sighting the giant 'Fireballs' that fell from the sky. some parts experienced slight tremors too.
Harikrishnan
Fireballs in the sky? Meteorites? Take a long flourish and bow, Kerala. Oh and wait... *points and laughs at Hollywood.
Dhanya
Kerala Minister Adoor Prakash says large fireball in sky could have been asteroid, govt probe on.