Famous astrologer Bejan Daruwala, who was hospitalised following symptoms of the novel coronavirus pandemic, passed away at 5.13 pm on Friday, May 29, in Ahmedabad's Apollo hospital.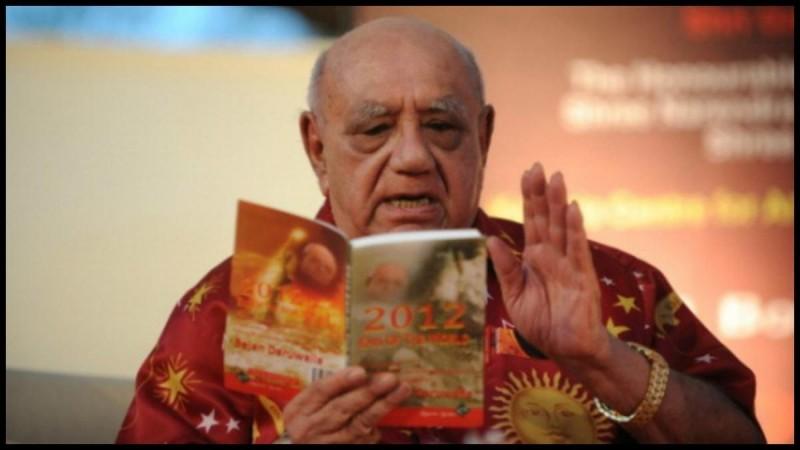 Reacting to his death, Sheelpe Enterprises Managing Director Behram Mehta said, "Bejan ji always loved the press and all the publications and all people related to media. All he wanted was a glorious funeral and due to lockdown he will not have that with less people."
Meanwhile, sources have confirmed that Bejanji Daruwalla's funeral and last rites will be held at Dudheswar Crematorium in Ahmedabad, Gujarat.
Bejan Daruwalla's astrological predictions have been keenly followed by thousands of people. He was battling the deadly virus and was put under ventilator support in the ICU after he complained of breathing difficulties.
The 89-year-old astrologer had tested positive for Covid-19, however, his astrologer-son, Nastur, squashed the rumours, and revealed that the renowned astrologer had been suffering from pneumonia, lung infection and low levels of oxygen in his body, reports TOI.
According to Bejan Daruwalla's website, he is one of the most acknowledged astrologers in the country that the Millennium Book Of Prophecy, published by Harper Collins, USA has him listed as one of the 100 great astrologers in the last 1000 years.
Who is Bejan Daruwalla?
Bejan Daruwalla is a world-renowned, revered astrologer, and prophesier. "Ganesha devotee Bejan Daruwalla is acknowledged as one of the 100 great astrologers in the last 1000 years in The Millennium Book of Prophecy, published by Harper Collins, USA. But Bejan was much more happy and excited when the Dalai Lama asked Bejan to put his own hand on Dalai Lama's head at the India International Centre, Delhi. Bejan has never completely got over it. It was simply too much. Astrologer Bejan Daruwalla is Top Indian Astrologer, Best Indian Astrologer, Psychic Reading Astrologer," his website read.
Covid-19 Gujarat wrap
Gujarat's coronavirus case tally has increased to 15,572 after 367 infections while the death toll has risen to 960 after 22 deaths occurred. Till date, as many as 8,001 patients have been cure and discharged, including 454 patients.