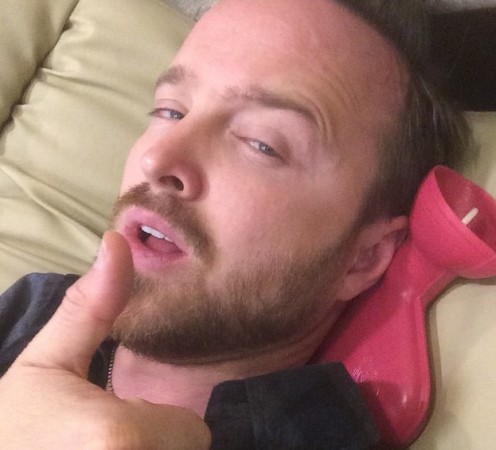 Actor Aaron Paul, who won rave reviews for essaying Jesse Pinkman in the "Breaking Bad" series, has landed a new show, "The Way", from producer Jason Katims.
"The Way" will be Paul's first series role since "Breaking Bad" came to an end in 2013, and in the new Hulu drama, Paul will essay the role of Eddie Cleary, "a convert to a controversial movement with a wayward past," Hulu teased.
Eddie is a married man and the role of his wife Sarah will be played by Michelle Monaghan. The series, which is due this winter, will see Eddie suffering from "a crisis of faith when all that he's come to accept as truth in his life is fundamentally challenged."
Paul shared his excitement at being a part of the new Hulu drama via Instagram, writing: "Very excited about this one. Thank you to everyone involved for making this happen for me. Hugs and kisses to all of you. New York City here I come."
This news comes just days after Paul pranked "Breaking Bad" fans, saying a spinoff focusing on Jesse Pinkman was in the works. Over the weekend, the actor posted a photo on Instagram and captioned it as, "Can't wait to tell you what this is all about," he wrote. "It's top secret for now but you all will know soon enough. It's a new gig that I am over the moon about. Thank you angel for sending this to me from across the country. Love you lots and lots."
On Monday, Paul used Periscope to reveal that the project would follow Jesse Pinkman in Alaska. However, he immediately revealed that it was just a prank that stemmed from sheer boredom.
Needless to say, his fans weren't too pleased, and Paul was quick to apologise.
"Sorry for the joke everybody. I love you all so much. Hugs and kisses," Paul tweeted.