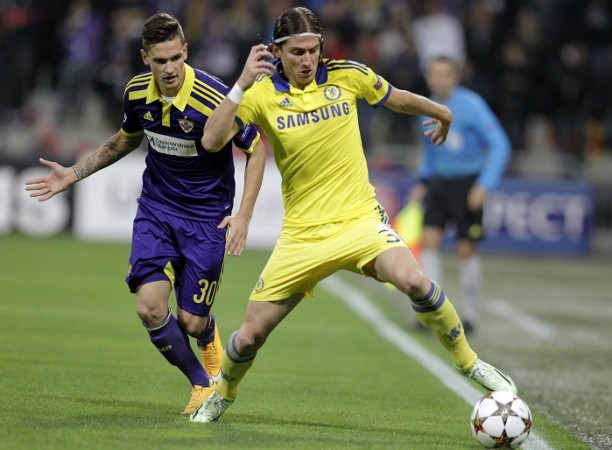 Chelsea fullback Filipe Luis says he is not looking to make a move out of Stamford Bridge this summer despite him getting very limited first team opportunities this season.
The 29-year-old, who completed a £15.8 million switch from Atletico Madrid to Chelsea last summer, has managed to make only seven starts in the Premier League this season due to manager preferring Cesar Azpilicueta in the left-back position.
Although Azpilicueta is primarily a right-back, he has managed to excel in the left-back position and this has resulted in Mourinho preferring him over Luis.
Still, the Brazilian says that he is happy at the West London club and is looking to see out his three-year contract.
"I'm happy at Chelsea. I want to stay at the club until the end of my contract," the 29-year-old told Sky Sports.
The Blues, who have already won the Capital One Cup, are currently the favourites to lift the Premier League title as well due to them being six points clear with one game in hand at the top of the table.
Although Luis feels his side have a very good chance to win the Premier League this season, he insists that the title race is still not over.
"We have a chance to win the Premier League. Everyone wants to be there to try to help the team to win the league," he added. "Is the title race over? No. It's really difficult."
Chelsea are yet to face the likes of Manchester United, Liverpool and Arsenal in the Premier League.
And Luis despite admitting that Chelsea have some really "difficult games" ahead, feels that his side are "prepared to cope" with the pressure.
"We have nine games - really difficult games," he said. "The Premier League is never easy. We have to be better than ever because these games are coming up with a lot of pressure, but I think we're prepared to cope with the hard situation we have."
"He (Mourinho) always says that to us - he has never said anything else. He always asked for everybody to be focused and concentrated in the games and to try to win every match we have."