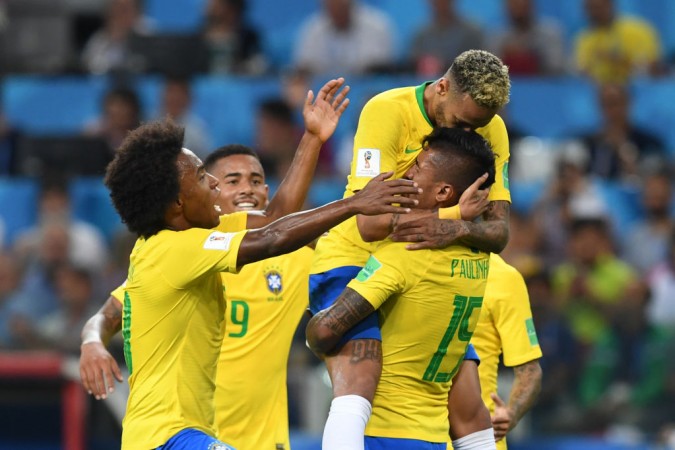 Hello and welcome to the live updates of Group E tie of Fifa World Cup 2018 between Brazil and Serbia from the Spartak Stadium in Moscow.
Live Updates
2018-06-2801:33 (IST)
Brazil peaking at the right time?
Brazil, who were held to a 1-1 draw by Switzerland in their tournament opener on June 17, were in danger of dropping another two points against Costa Rica on June 22.
However, Philippe Coutinho, who has been the best player for Brazil in the tournament so far, and Neymar scored injury-time goals to bring relief to the Selecao fans.
On the final Group E matchday, Brazil came up with a complete performance to outclass Serbia. Neymar was on top of his game, making some threatening runs down the flanks and creating chances for his team. Coutinho ability to deliver balls and take long shots is a worrying sign for Mexico and the rest of the teams.
Also, Brazil's backline was solid throughout the 90 minutes despite losing Marcelo to an injury early in the first half.
Tite and the Brazilian fans can dare to dream here.
2018-06-2801:28 (IST)
Full-time: BRA 2-0 SRB
Comfortable night for Brazil. There was considerable pressure on them before the match, especially after world champions Germany were dumped out of the tournament by South Korea earlier in the day.
However, Neymar's improved showing and Coutinho's class helped Brazil seal a 2-0 win over Serbia and the Group E top spot as well. Tite's men will face Mexico in a mouth-watering clash on Monday.
Meanwhile, Switzerland, who were held by Costa Rica in Nizhny Novgorod, go through into the Round of 16 as runners-up of the group.
2018-06-2801:20 (IST)
90 min: Three minutes of added time
Serbia have three more minutes to save their World Cup campaign but they look dead and buried already. Brazil and Co. have been brilliant today. Deserved winners and now they are looking set to finish on top of the Group E table.
2018-06-2801:17 (IST)
86 min: It's one-way traffic in Moscow
Neymar had two good opportunities to get a goal here. He didn't finish well on both the occasions
Willian, in the 82nd minute, ran down the right and put a ball into the box towards Neymar who hits it into the ground and over the bar. He then received a chip from Fernandinho but fails to lift it past the Serbian goalkeeper.
Meanwhile, Switzerland have taken back the lead against Costa Rica in Nizhny Novgorod.
2018-06-2801:09 (IST)
80 min: Philippe Coutinho comes off for Brazil
Tite has replaced Coutinho with Renato Augusto. Brazil are protecting their in-form man for the knockouts, considering how Serbia have lost the fight in Moscow.
Neymar and Brazil are not taking their foot off the gas as they search for another goal.
2018-06-2801:06 (IST)
74 min: Serbia make a change
Zivkovic replaces Ljajic, who was impressive in the evening for Serbia. However, Brazil are pressing for a third goal. Neymar is making some dangerous runs down the left. A Brazilian win looks certain here.
2018-06-2801:00 (IST)
68 min: Goal for Brazil!
Thiago Silva doubles Brazil's lead. Tite's men, against the run of play, have dealt a heavy blow to Serbia's chances.
Neymar deliver a beautiful ball towards the near post from the corner and Silva leaped above the Serbian defenders to slot in a powerful header.
It's BRA 2-0 SRB in Moscow.
2018-06-2800:56 (IST)
65 min: Brazil's goal-scorer Paulinho comes off
Tite is bringing on Fernandinho for Paulinho, who scored the opening goal for Brazil.
2018-06-2800:54 (IST)
62 min: Serbia causing some problems here
Serbia have enjoyed a good passage of play. They are putting pressure on the Brazilian backline.
Allison's ordinary attempt while clearing off a Rukavna's powerful shot would have costed Brazil. The weak clearance falls right in front of Mitrovic, who heads it straight into a Brazilian defender. That was close!
Ljajic and Milkovic-Savic are causing some problems with their runs into the attacking third.
2018-06-2800:47 (IST)
57 min: Chance for Brazil on the break
After Serbia threatened to get the equalizing goal, the action quickly shifted to the other end as Brazil tested the Serbian goalkeeper on the break.
Coutinho was the man again as he delivered a brilliant ball from the half-way mark to Neymar on the left. Brazil is unable to take advantage of the resulting corner.
Meanwhile, Costa Rica have equalised through Kendal Watson's goal against Switzerland in Nizhny Novgorod.
2018-06-2800:45 (IST)
55 min: Serbia begin second-half strong
Much better in the second half from Serbia. They are keeping the ball a lot more and even had a good chance when they went three on three. Brazil have able to keep the danger away though.
Meanwhile, Matic was booked for bringing down Gabriel Jesus at the middle of the pitch.
2018-06-2800:34 (IST)
46 min: The second-half in underway
The second-half is underway in Moscow. Can Brazil protect their lead? Considering the way Neymar and Coutinho have operated, Tite's men look good for a comfortable win here.
2018-06-2800:21 (IST)
Half-time: BRA 1-0 SRB
Paulinho's goal the difference between the two sides at the break. Neymar nearly doubled the lead in the 46th minute when he tried to curl one into the top corner from the left of the box. The ball flew inches wide off the post.
Neymar has been showing glimpses of his best form in Moscow today. He created a lot of chances early in the match to swing the momentum in Brazil's favour.
Coutinho, who put a lovely ball to goal-scorer Paulinho, has continued his good form.
Meanwhile, Serbia have not been able to even get one shot on goal in the first 45 minutes. The Brazilian backline have dealt with the occasional danger very well.
Switzerland, meanwhile, have headed into the break with a one-goal lead over Costa Rica in Nizhny Novgorod.
As it stands, Brazil and Switzerland are looking set to progress to the knockout stage from Group E.
2018-06-2800:14 (IST)
42 min: Serbia respond strongly
Serbia have created multiple chances after conceding the goal. However, the Brazilian backline has been impenetrable today.
The Serbians need to reply sooner than later otherwise they will have to pack their bags.
In the other Group E game, Switzerland are 1-0 up against Costa Rica, thanks to a 31st-minute strike from Dzemaili.
2018-06-2800:07 (IST)
35 min: Brazil take the lead in Moscow
Paulinho has scored the opening goal for Brazil in Moscow. Delight for his teammates, delight for Tite and the support staff as they witness a brilliant finish and an event brilliant assist from Philippe Coutinho.
The Barcelona man sensed Paulinho making the run up the turf and delivered a brilliant long ball. Paulinho just had to get to the ball before the goalkeeper and he exactly did that.
2018-06-2800:06 (IST)
33 min: Serbian player booked for foul on Neymar
Ljajic gets into the referee's book for bringing down Neymar. It was a rash challenge and the Brazil star keeps rolling over outside the touchline.
2018-06-2800:04 (IST)
31 min: Free-kick for Serbia
Thiago Silva's foul means Serbia get a free-kick at around the middle of the Brazilian half. The Selecao backline is up to the task. The defence has been solid today for the Men in Yellow.
2018-06-2723:58 (IST)
24 min: It's 0-0 in Moscow
Neymar had the best chance of the half so far. The PSG striker found Gabriel Jesus on the left inside the box but the later was crowded out. Neymar though was lucky to get the possession back at the corner of the six-yard box.
He tried to slam one into the far corner from the left but the Serbian goalkeeper palms it away to safety. Neymar's performance so far should give a lot of joy to Brazilian fans, who would already be elated following Germany's exit, early exit.
While Serbia haven't had any shots on target, Brazil have already had two. However, there is nothing much to separate the two teams when it comes to possession stats.
2018-06-2723:51 (IST)
17 min: Serbia halting Brazilian momentum
Serbia started slow but they are slowly getting back into this. Milinkovic-Savic had gotten their first shot a few minutes back, which was deflected off for a corner. Nothing came off it though.
2018-06-2723:45 (IST)
9 min: Marcelo comes off for Brazil
The Brazilian left-back is being substituted by Filipe Luis. The Real Madrid man was unable to continue, much to the surprise of the referee. It is unclear what happened to Marcelo but this is not good news for Tite's men.
2018-06-2723:43 (IST)
7 min: Neymar looks threatening
Brazil have started on a high here. Their main man Neymar has already made a threatening run down the middle. He sets up nicely for Philippe Coutinho who fires one straight into Gabriel Jesus.
Neymar also put a defense-splitting pass to find Jesus inside the box. However, the off-side flag is up.
Good early pressure from Brazil here.
2018-06-2723:33 (IST)
1 min: Brazil get the ball rolling in Spartak Stadium
The match is on in Moscow. Brazil can go through even with a draw but they will be hoping for full three points today.
Here's how the Group E table looks like
2018-06-2723:29 (IST)
Neymar wears a relaxed look
The pressure is on Brazil despite them being one of the favourites to win the title in Russia. As the camera zoomed in on Neymar during the national anthem, the PSG star looked calm. Can he handle the weight of expectations today?
2018-06-2723:25 (IST)
Brazil, Serbia make their way out for the national anthem
There are a lot of yellow shirts at the Spartak Arena as both the teams have walked out for the national anthems.
While all eyes will be on Neymar, especially after he opened his account in St. Petersburg against Costa Rica, Philippe Coutinho will be the danger man for Serbia, given his fantastic run in the ongoing tournament.
2018-06-2723:21 (IST)
Here's the line-ups of the two teams for the crunch tie
Brazil should be a happy bunch for Germany, who handed them a humiliating 7-1 thrashing at home in 2014, were ousted earlier in the day after a shock 2-0 defeat to South Korea.
However, the Selecao need to be at their best if they are to avoid a similar fate.
Here's are the starting line-ups of the two teams. Tite has stuck with the same line-up that won against Croatia last week.
Meanwhile, Serbia have made three changes to the side that lost to Switzerland. Ivanovic, Tosic, and Milivojevic have been replaced by Veljkovic, Milenkovic, and Ljajic.
Brazil: Alisson; Fagner, Miranda, Thiago Silva, Marcelo; Casemiro, Paulinho; Willian, Philippe Coutinho, Neymar; Jesus.
Serbia: Stojkovic; Rukavina, Veljkovic, Milenkovic, Kolarov; Matic, Milinkovic-Savic; Tadic, Ljajic, Kostic; Mitrovic.
Meanwhile, Nizhny Novgorod is hosting the other Group E match between second-placed Switzerland and wooden spooners Croatia.