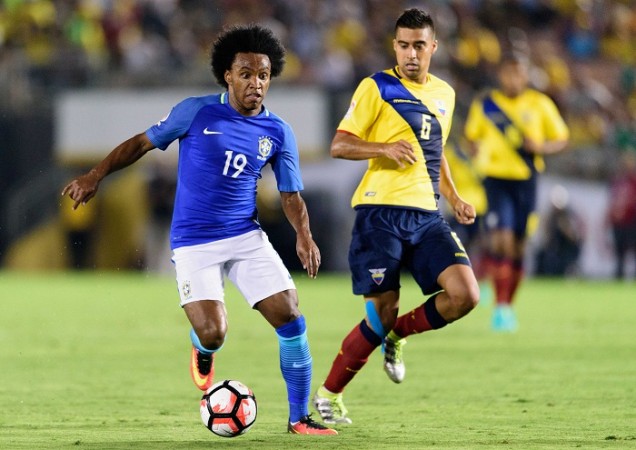 Brazil have always been one of the favourites in the Copa America, and they might have thought of sending warning signals to other teams in the competition with a win over Ecuador at Rose Bowl Stadium on Sunday. But things did not go according to plan for Brazil, as they were held to a scoreless draw by Ecuador, who were disappointed after a goal was controversially disallowed in the 66th minute.
Brazil are without their star striker Neymar, who was sorely missed as his team could not find the back of the net despite creating some chances. However, WIllian and Philippe Coutinho's performance was a shining light for Brazil, though they could not come up with a goal in their opening encounter.
Dunga, Brazil's coach, will be disappointed with this result as they were expected to defeat Ecuador.
The match was an entertaining encounter right from the first whistle, where both the nations played an attacking brand of football, entertaining the crowd gathered for the match. There were plenty of open spaces for Brazil and Ecuador to exploit, but neither team managed to break the deadlock. Ecuador goalkeeper Esteban Dreer stood tall whenever a chance was presented to Brazil.
However, one needs to applaud the brilliance of Ecuador, who were thought to be a defensive team prior to the start of the Copa America. Ecuador looked in their zone on Sunday, providing constant threat in the first half with their brilliant counter-attacking style of football, which troubled Brazil.
Though Brazil might have enjoyed good possession in the first half, Ecuador were a regular threat with the ball on their feet, especially as their players used their pace to attack Brazil.
Ecuador, after all their hard work, must have been disappointed when a goal was disallowed in the 66th minute. Brazil's goalkeeper Alisson fumbled an easy ball, and Miller Bolanos' shot crossed the goal line for a 1-0 lead, but the ball was called out of bounds on the cross, which infuriated the Ecuador players.
The controversial disallowed goal was the biggest talking point of the game, and Brazil should be lucky to manage one point from the game.
With two more games coming up against Peru and Haiti in the Copa America group stages for Brazil, there is a serious need for Dunga's team to come up with a better effort in the future matches of the competition.