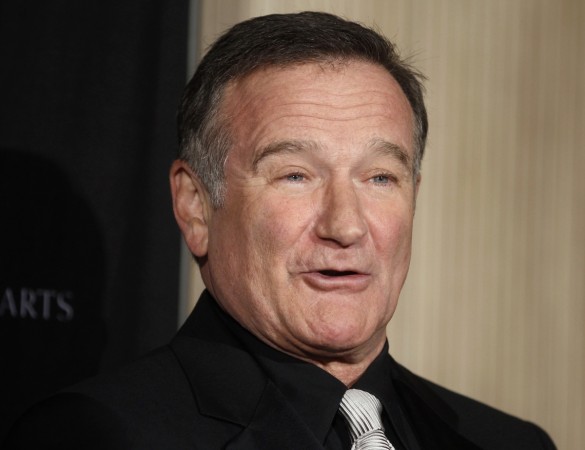 Three months have passed since world-renowned actor Robin Williams bid farewell to the world.
The 63-year-old comedian was found hanging from a belt in his North California home on 11 August. The actor was taking medications for Parkinson's disease and depression at the time he committed suicide.
A new report out this week revealed that Williams actually suffered from Lewy body dementia (LBD), a common, but often underdiagnosed condition, that causes build-up of protein deposits called Lewy bodies in nerve cells of the brain regions, which manage thinking, memory and movement or motor control, according to the experts at Mayo Clinic.
The protein deposits disturb proper functioning of acetylcholine, a neurotransmitter that stimulates cell division; and dopamine, an important chemical neurotransmitter that performs several important functions in the body, including movement and balance, according to Alzheimer Europe.
A brain autopsy performed on the actor is said to have detected "Lewy Bodies." His brain also exhibited some changes related to Alzheimer's and Parkinson's, Entertainmentwise. Com reported.
The progressive degenerative condition leads to cognitive decline, visual hallucinations, sleep disorder and depression.
According to Alzheimer Europe, Lewy Body Dementia has some common features of both Parkinson's disease and Alzheimer's: muscle stiffness, difficulty in walking, memory loss, absence of facial expression, difficulties in communicating and spatial disorientation.
Nearly 35.6 million people in the world have dementia, according to the World Health Organisation (WHO). According to the Family Caregiver Alliance, LBD is the one of the most common forms of dementia and involves about 20 percent of all dementia cases in the world.
Doctors, while talking about the condition, agreed that it is very tough to distinguish between Parkinson's and LBD. However, a misdiagnosis and taking the wrong medication often worsens the condition.
"Even experienced neurologists have trouble distinguishing between (the two diseases)," Gayatri Devi, an attending neurologist at Lenox Hill Hospital in New York, told USA Today. "There's not a clear-cut distinction. It's two diseases that have a kind of intersection where it's hard to tease them apart."
"Patients with Lewy body disease can hallucinate on their own but give them a Parkinson's drug and it can make hallucinations worse," she added later. "And drugs used to treat Lewy body hallucinations can cause symptoms of Parkinson's."
William's wife reportedly revealed to the media that her husband often complained about the medicines and how he felt after taking them, TMZ reported. Later, sources close to the actor's family confirmed to the website that they believed that Lewy Body Dementia was the "critical factor" behind his death.
However, experts said that it may not be right. "Suicide does not usually occur in Lewy body dementia patients," Devi, who attends to several cases of the dementia, told USA Today.
Williams, who has been married thrice in his life has three children - Zachary (31) with first wife Valerie Velardi; Zelda (25) and Cody (22) with second wife Marsha Garces. He was living with third wife Susan Schneider at the time of his death.