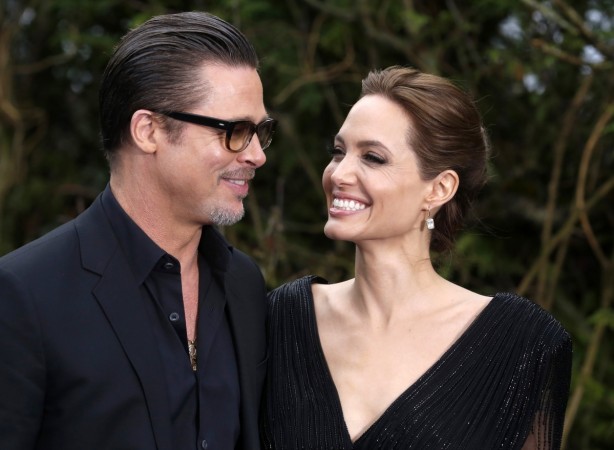 Brad Pitt and Angelina Jolie, are undoubtedly the most famous couple in Hollywood. But according to some new reports, the couple has been facing some kind of money problems.
Recently, the "Fury" star and his wife along with their six kids skipped the first class and travelled economy class instead. Brangelina along with Maddox, Pax, Zahara, Shiloh and twins Knox and Vivienne were spotted boarding a flight from Paris to Nice in the economy section.
The family apparently flew from LAX to Paris and then hopped on the short Air France flight in economy. The report said that Angie was spotted putting their carry-on luggage in the overhead storage.
According to OK Magazine, the couple is rumoured to be in debts and this could be their new way to save money.
"Their travel costs are ridiculous. Brangie are spending their way into debt," a source said. "Even if they're not flying privately, they buy first-class tickets for everyone, and that adds up to hundreds of thousands of dollars."
But it is highly possible that there is no truth in these reports and it could well just be rumours.
If another report on this website is to be believed, then the star couple is all set to buy their own island. Apparently, the A-list couple is planning to purchase the entire island of Gaia in Greece.
"Angie fell in love with it. The kids would finally be able to run around freely without worrying about paparazzi," a source told the website.
The report further stated that Brad Pitt and Angelina Jolie are ready to splash out $4.7 million. And they are believed to have received a construction permit for six villas on this 43-acre island.
Meanwhile, hubby Brad certainly didn't scrimp for his wife's 40th birthday recently, as he reportedly purchased a vintage seaplane for her.
The couple apparently made a visit to a dealer in Europe ahead of the purchase and are keeping it on their runway at their home in Château Miraval near Brignoles, France. Brad also threw in flying lessons for Angelina so that she is able to land her plane on the water.