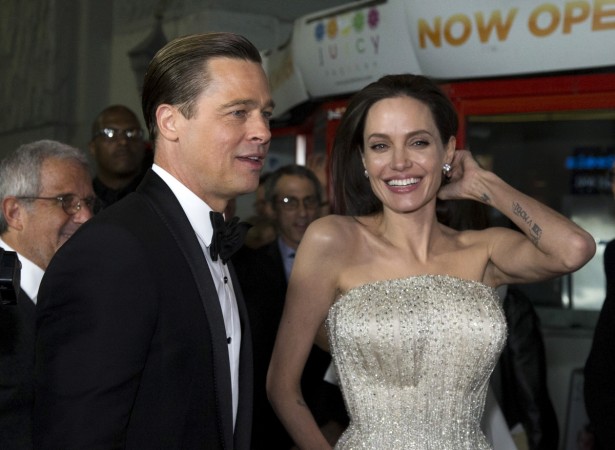 Brad Pitt and Angelina Jolie's marriage has been hit by various divorce rumours in the last couple of months. Several gossip reports have claimed that issues like extra-marital affairs, jealously and Jolie's apparent weight loss are reasons that have been wrecking havoc in the celebrity couple's relationship.
According to Gossip Cop, Life & Style has claimed that Brangelina have broken up after 11 years together, and has also apparently revealed what exactly went wrong. As it appears, the report also has given out "shocking details" about how "jealousy, fights and other man" have led to the split.
"The relationship has disintegrated into withering glances and stony silences. Brad feels that their almost two-year union is unsalvageable," Life & Style quoted the source as saying.
The magazine on its cover page apparently also says in bold bullets: "Angie's weight drops to 90 pounds as she faces her third divorce" and "Already living apart."
The source has also apparently said that Pitt is worried about Jolie's health and even this has been ruining their marriage. "Brad feels all the angst and strain they've been through over the past few years has finally taken its toll," the source reportedly said.
The gossip mag further reportedly added that Jolie is jealous of Pitt's growing friendship with his "Allied" co-star Marion Cotillard. This was a claim that was first made by In Touch, pointed out Gossip Cop. The In Touch report had alleged that Jolie was worried that history would repeat and she would also lose her husband to another woman, who is his co-star.
"She's prone to think that since she was once Brad's co-star and seduced him away from his wife, the same will happen to her," the source had reportedly said.
But Gossip Cop has now debunked all these claims by saying that these rumours are "simply rehashes of previously disproved tabloid stories." The website said that a source close to the couple has confirmed to them that Pitt and Jolie have not broken up and that there's "no truth" to this divorce rumour.