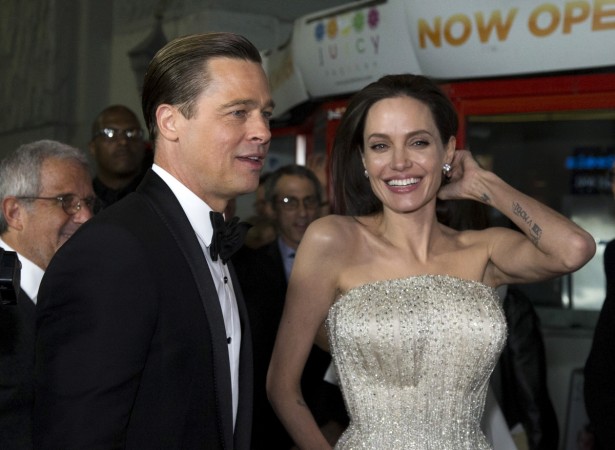 Brad Pitt and Angelina Jolie marriage has been hit by a whole bunch of new divorce rumours. The latest round of speculations have been sparked after reports of "Maleficent" actress flirting with a Pitt lookalike and the "Fury" actor moving into a bachelor pad started doing the rounds.
The star couple has been married since 2014, but their busy work schedules have apparently taken a toll on their relationship. And now, situation has reportedly got worse and both Jolie and Pitt have started drifting away.
According to Inquistr, Pitt, who is currently shooting in the U.K. for his upcoming film, is considering relocating to England for good and has all plans to leave his kids to move into a bachelor pad.
A source apparently told the website that Pitt is tired of staying at the hotels and is secretly searching for a house behind Jolie's back. "Pitt is tired of staying in hotels and tried to convince Jolie that moving there together would be good for their marriage, but she refused to rearrange her schedule," the source said.
"Brad's thinking time apart is exactly what they need," the source added.
However, Gossip Cop has debunked these rumours by calling them ridiculous. The website reported that Pitt is not moving into any bachelor pad without Jolie's knowledge and the claims about this "nonexistent secret bachelor pad is untrue."
Similarly, the website has busted another claim made by National Enquirer about Jolie flirting with a Pitt lookalike on the sets on her upcoming drama "First They Killed My Father."
According to Gossip Cop, Enquirer reported that Jolie was getting close to a hunky cameraman, who looks like Pitt, while directing her film in Cambodia. "They were having a very flirty, lighthearted talk about something. At one point, they both disappeared. Angie returned a little later with a big smile on her face," Enquirer quoted the source as saying.
Gossip Cop has confirmed that Jolie is not flirting with any crew/cast member on the sets of her new movie and a source close to the actress has apparently told the website that this is "complete nonsense."
We don't know whether to believe these reports or not. But, it looks like rumour mills will continue spinning these divorce stories until either Jolie or Pitt come out and reveal their true relationship status.