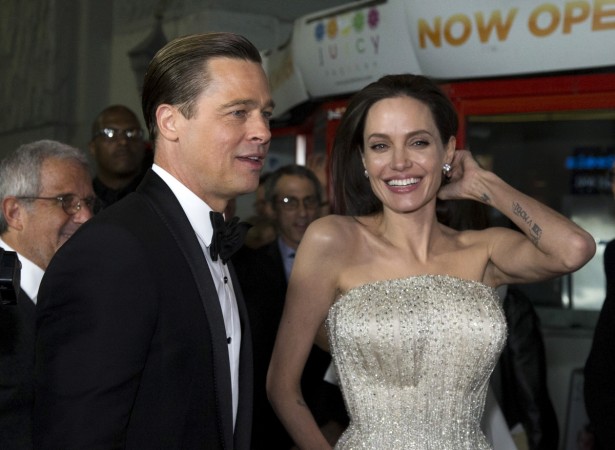 Brad Pitt and Angelina Jolie's marriage continues to get haunted by divorce rumours. Over the last couple of weeks, reports claiming that issues like extra-marital affairs, jealousy and Jolie's apparent health condition have been creating trouble in the star couple's marriage. Now, the latest buzz is that the "Fury" actor is tired of helping the "Maleficent" actress with her career.
According to Radar Online, a string of flops is "tearing them apart." Jolie and Pitt are apparently at war about whose movies, projects and career is more important.
"This is tearing them apart, but Brad's got no choice. He's done more than enough to help her directing career, even risking his own reputation in her schmaltzy flop 'By the Sea,' and now it's time to get back to work," an insider revealed.
According to the report, Pitt is losing patience trying to set right Jolie's profession, and now wants to concentrate on his own career. "He's madly pitching for 'War Machine' to get into Cannes and has hopes it could be a favourite for awards season next year," the insider said.
"He's also about to start filming the 'WWZ' sequel, but all of this is not sitting well with his wife," the insider added.
And if this happens, the insider pointed out to the website that the couple's arrangement about only one of them working at a time for the sake of their kids will go haywire.
"They're at war over who's looking after the kids since that agreement got blown out the window with her desire to turn her directing career into a success after several failures," the insider said.
And between all this, Jolie is apparently finding it hard to concentrate on her Netflix film, "First They Killed My Father."
"She's praying her directing career will be saved by this movie and she's turned into a perfectionist nightmare in the editing suite," the insider shared.
Now, these reports certainly point towards an ongoing storm in the couple's marriage, and are sure to cause an equally big turmoil in the minds of Jolie and Pitt fans.