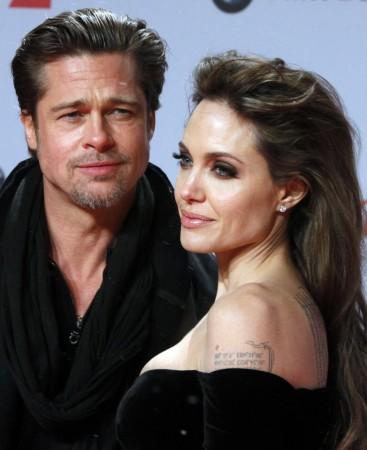 Finally they are engaged!!! Hollywood's hottest couple Angelina Jolie and Brad Pitt has finally decided to tie the knot after years of unwedded bliss.
Hollywood's one of the most memorable love stories to date began its journey from the set of "Mr. & Mrs. Smith" in 2004. It didn't take much time for the rumours to take its turn. Earlier the couple, Jolie and Pitt tried to hide their real feelings for each other by putting a mask of friendship.
But in actual life, Brad Pitt couldn't leave his sweet heart Angelina Jolie when he was still married to the successful Hollywood actress and America's heartthrob Jennifer Aniston.
Soon, Pitt and Aniston announced their split in 2005 after spending life together for more than seven years. The rumours turned real when the actor Pitt made his relationship public by spending quality time with Angelina and her adopted son Maddox during a vacation in Africa a few months later.
The sizzling couple's photo shoots for W magazine portraying theme as a family with several children became the talk of the town in 2005. Even though the whole world knew about the brewing love story, the twosome was not ready to confirm on anything.
Once the divorce from Aniston was finalized by the court, Pitt legally adopted Jolie's two children Maddox and Zahara. In 2006, Jolie gave birth to the couple's first biological child Shiloh.
Marriage was never a priority in their life. "We're not against it. It just doesn't seem necessary," Jolie once explained to Marie Claire. "He and I have never discussed it in detail, but I would assume - because we both went down that road before -- it's not that contract or that ceremony that makes you feel solid."
Later Pitt and Angelina famously announced they would never marry until gay marriage was legalized in the country.
In 2007, Jolie adopted 3-year-old Pax Thien, and the very next year, the couple welcomed their twins Knox and Vivienne. The photos of the newborns were sold for $ 14 million, and it was the most expensive celebrity picture ever taken.
Jolie set the controversy on fire by saying that she was excited for her children to see "Mr. &Mrs. Smith" because 'not a lot of people get to see a movie where their parents fell in love', during her interview with New York Times.
Jennifer Aniston reacted by saying Jolie and Pitt fell in love on the set of 'Smith' was uncool.
Pitt became the centre of controversy when he revealed his married life with Aniston was a fake life that he had. "I wasn't living an interesting life myself. I think that my marriage had something to do with it. Trying to pretend the marriage was something that it wasn't," he told Parade during one of his interviews. He also said that he found himself at a miserable place near the end of his marriage relationship and it was the relationship with Jolie that lightened up his life again.
Once they settled into their family life couple's successful career life was at his peak. With "In The land of Blood and Honey" Jolie made first entry to the field of direction in 2011, while Pitt was nominated for an Academy Award for his role in "Moneyball".
After all the speculations and controversies, Brad Pitt hinted recently that he would walk down the aisle with Angelina Jolie sooner than expected. Their six children were putting him under pressure to do so and they can never say 'No' to them.
"It seems to mean more and more to our kids. We made this declaration some time ago that we weren't going to do it till everyone can. But I don't think we'll be able to hold out," he told The Hollywood Reporter. "It means so much to my kids, and they ask a lot. And it means something to me, too, to make that kind of commitment."
Brad Pitt and Angelina Jolie haven't set a wedding date yet. The day of their marriage is going to be the most awaited moment for their fans and Hollywood.