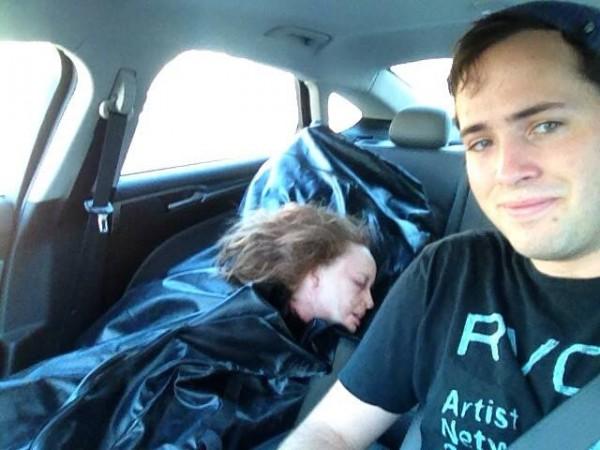 A photograph of a boyfriend posing with the stolen dead body of his girlfriend went viral on several social media sites earlier this week. The morbid image, which was criticised widely by many, however, has turned out to be a hoax.
A Reddit member, BoiledEggs, posted the creepy selfie on the r/WTF page with the title, "Dude in CA. steals his dead GF from morgue and posts picture to his social media page."
The photo soon went viral and was shared by thousands on social media sites. Reddit later banned the picture as it was found to be highly disturbing.
Many were fooled by the fake picture, which showed the boyfriend posing with a dead body of 'the girlfriend' in a black bag.
In the meantime, with frenzy over the picture growing, Gawker's Antiviral reported that the 'dead girlfriend' was just a high quality prop.
The report noted that in reality there was no dead girlfriend, it was just a picture that a production assistant, who works for a police procedural drama had shot a month back.
Menawhile, the picture was not even posted by the 'boyfriend.'
"It was my friend who put this story online without my permission, and he also put that crazy title," the unidentified assistant producer said.
Many on Twitter reacted sarcastically to the dead girlfriend selfie picture.
so 2014, a guy in CA, stole his dead girlfriend from a morgue and posted it to the internet. #GOATyear pic.twitter.com/ucgKedxKd2

— John (@ogthagod) September 12, 2014
A Twitter user noted that the boyfriend's game was 'strong.'
This guy's selfie game is strong, stole his dead girlfriend from a morgue pic.twitter.com/31ERoyqqS4 — CONNOЯ (@_Connn_) September 17, 2014
Another tweet trying to gain traction through the dead girlfriend selfie showed a picture of teenage boy posing with a girlfriend,who seems asleep on the back seat.
THIS JUST IN: 16 year old steals back dead girlfriend from the morgue visit more at http://t.co/e5zzcJBb3m pic.twitter.com/SgAUtS1ptb

— single + ugly (@cameronbald) September 21, 2014
Many,however, were not taken in by the hoax.
I'm TOTES ready for y'all to show me that the stolen dead girlfriend from the morgue selfie story is fake & I've been duped. Anyone? Please?

— April (@ReignOfApril) September 13, 2014