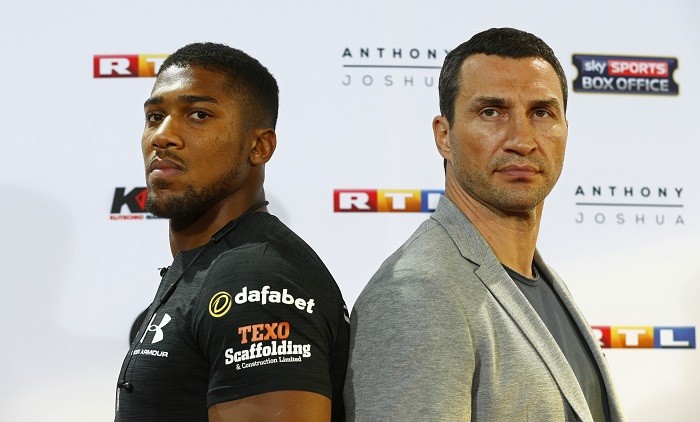 Anthony Joshua is set to compete in the biggest fight of his professional boxing career later this month when he comes up against Wladimir Klitschko at the Wembley Stadium. Joshua is still undefeated and has won all of his bouts by knockout so far but he won't have such an easy time against the former heavyweight champion.
Klitschko has been out of the sport for more than a year now since he suffered a shock defeat against Tyson Fury in 2015 but the Ukrainian is obsessed with winning that bout and the IBF, IBO and WBA heavyweight titles. He believes that he and Joshua are a carbon copy of each other but said that his obsession about wanting to win and getting his hand raised could be the difference between winning and losing on that night.
Also read: Wladimir Klitschko compares himself to Mount Everest
"We look alike, size-wise. Arm length is pretty much the same. Biceps? Maybe in this smaller T-shirt, you look better. Punching power, we don't need to talk about. There are a lot of equal things; preparation, camp, altitude training, nutrition. We can name a lot of things. The more I look at it, it's a copy. Different, but in a certain way it's a copy," Sky Sports quoted Klitschko as saying.
"I'm obsessed with my goal to raise my hands after the fight and leave the ring as the winner."
Checkout the complete interview that Wladimir Klitschko and Anthony Joshua had face to face.
Klitschko, who is 17 years Joshua's senior, has a lot more experience than his opponent, heading into this fight and that will certainly come into play when the two face off on April 29. However, the fact that no opponent has been able to last more than seven rounds against Joshua would be a cause for concern for any fighter but not for Klitschko. He spoke about being in a similar situation during his fight against Sam Peter.
"I've been fighting guys that had a great record of knockouts, the Samuel Peter fight, he was totally hyped up as the next champion. I was dead man walking, that's literally what I was called. I was on the floor multiple times during this fight and nobody thought this was going the distance. So you never know," Klitschko said.
Klitschko had a direct message for Joshua that said: "If you win I will congratulate you. When you lose I will help you to come back."
This bout sees two fighters who are at two different ends of their career. Klitschko could be in for the last fight of his career and he will be determined to give it his all. Joshua, on the other hand, is still young and has a lot to look forward to but the Brit will be under a lot of pressure to deliver against one of the greatest heavyweights in the world in his own country.