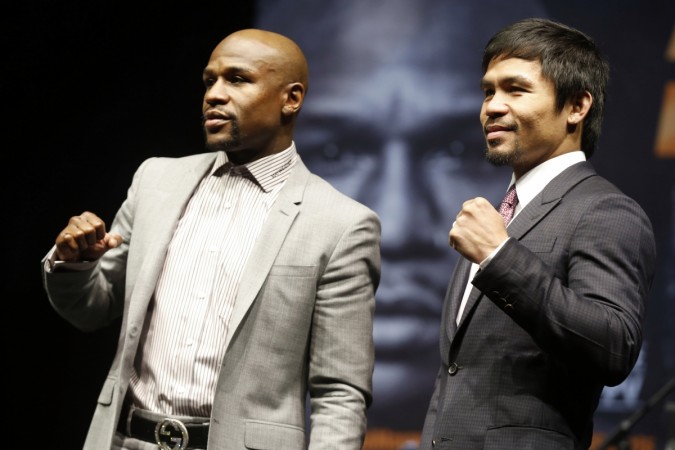 The official advertisement for the fight of the century between Manny Pacquiao and Floyd Mayweather has been released with the bout taking place at the MGM Grand in Las Vegas.
The countdown for the mega fight has already started with less than a month to go for the bout on May 2, and this advert will only bring one closer to the action.
The 30-second clip, which features both the boxers is said to have been shot in a Los Angeles studio on March 11. The advert is a collaboration between Mayweather Promotions, Top Rank, SHOWTIME PPV and HBO Pay-Per-View, as reported by telegraph.co.uk.
One look at the official clip reflects the intense look on the faces of both the 11-time, five-division, world champion Floyd Mayweather and eight-division world champ Manny Pacquiao.
The clip shows the boxers walking towards each other in the middle of the desert and staring back at their opponent.
Audience in the US and UK need to shell out huge money to watch the mega fight with the Americans required to pay upto $100 (£67.48), while UK viewers will have to pay £19.95.
The bout will be shown on HBO and Showtime.
The fight is also expected to break a number of records, which includes the pay-per-view as well. The previous record was held during Mayweather's clash with Canelo Alvarez, which had a pay per view price of $64.95.
With the hype that has been created surrounding the fight of late, the bout could even shatter Floyd Mayweather's fight with Oscar De La Hoya in 2007, which bagged 2.48 million buys.
The welterweight title unification fight between the two is expected to generate around $400 million (£270 million).
A number of people will be interested in getting a seat inside the 16,800-capacity MGM Grand arena, but one needs to dig deep into one's pocket with the high ticket prices in place. The tickets range from $1,500 to $7,500.
Here is the official video