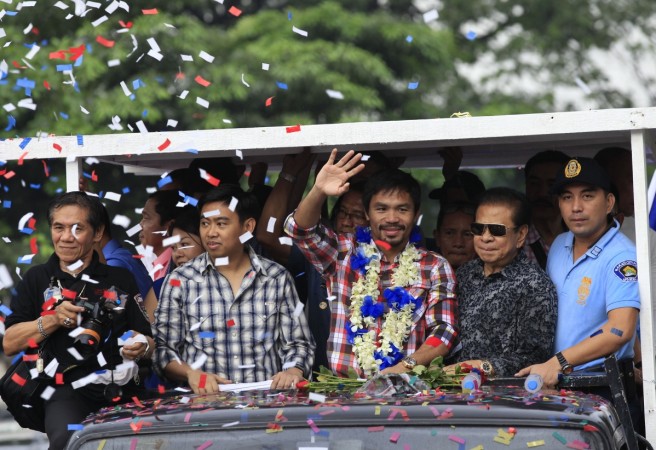 Manny Pacquiao may be the underdog when the Filipino takes on American Floyd Mayweather at MGM Grand in Las Vegas, but two-time world heavyweight champion George Foreman feels he can win it by one round, on points.
He also feels being an underdog might help the Filipino.
"I think Pacquiao (will win). He's smart, he's the underdog, and there's nothing like an underdog in a boxing match trying to find a way to win. You get the crowd cheering for you, you feel their strength and they can pull you through. I got a feeling he can win it by one round, on points," New York Post quoted Foreman as saying.
The Filipino had also stated earlier that he is not really looking to knock Mayweather out, but will focus on points. But, it is not going to be an easy task for Pacquiao with the American possessing a great defense, scoring might not be easy.
The eight division world champion, 'Pacquiao' needs to be at the top of his game to win via points.
"Mayweather doesn't know how to [throw a quick punch]. He's a defensive genius. He's just not an offensive machine. Pacquiao, he'll be content if he can win six rounds. Go one even and then pull one later on. I think he's got the edge there," added Foreman.
Filipino's biggest weapon against Mayweather will be his swiftness inside the ring. He is one of the quickest boxers inside the ring amongst the current crop of boxers. But, Mayweather, who is not acquainted to losing, will give it all his to maintain his unbeaten streak.
Boxing fans around the world have been waiting for this fight for some time. If Pacquiao has his way, he can entertain fans with his game inside the ring. There have been instances when the boxer has entertained fans en route to his victory.
Foreman explains that fans wanted to witness this fight. "The fans wanted it. A lot of fights have been greater fights probably than you'll see come May 2, but nothing that the fans wanted more. They wanted this fight — seldom do fans [get] what they want. That's what makes it valuable: two fighters that the fans want to see box," exclaimed Foreman.