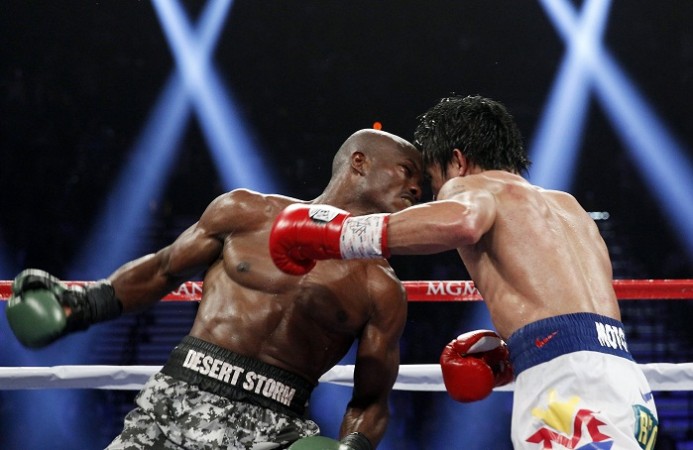 Timothy Bradley has had an impressive boxing career, winning 33 of his 36 bouts and only losing one so far. Bradley's only loss came in April 2014 against Manny Pacquaio, who is set to take on the American at the MGM Grand Arena in Las Vegas, April 9. This bout against Bradley marks Pacquaio's last professional bout as he announced he will hang his gloves after the fight.
Bradley and Pacquiao are no strangers as they have been involved in two fights before, with each boxer emerging victorious once. Though Bradley might have suffered a defeat against Pacquiao last time around in 2014, the American has already made some big plans to deal with the Filipino's skills.
Bradley has been closely looking at Pacquiao's weaknesses and wants to exploit it. Bradley will also want his trainer, Teddy Atlas, to come up with strategies to defeat Pacquiao.
"Our approach this time [against Pacquiao] is going to be way different. We have a big game plan going into this fight and I am looking closely at Pacquiao and his weaknesses," Sky Sports quoted Bradley as saying.
Bradley believes Atlas has been a huge help as the trainer has helped him focus for the mega fight. With this fight being Pacquiao's farewell one, the Filipino is set to come out all guns blazing, and sign off on a high.
Bradley is well aware of that fact and he will be keen to execute his plans to perfection against Pacquiao, as the American did in his last fight against Brandon Rios in Nov. 7 last year. It was an impressive fight from Bradley, who looked top class and knocked out Rios.
"We have a game plan, I just have to go out there and execute it, just like I did against Rios," Bradley said.
"I trust everything that Teddy is telling me and teaching me. I've just got to do my job.
"Teddy has shown me everything that I need to win this fight but if I don't go out there and do it, then I'm not going to win this fight.
"Manny Pacquiao pretty much does the same things, he's going to bring the intensity, he's going to come forward, he's going to be the Manny Pacquiao that we have always seen. He knows me but I think I'm going to be a little different now."
Though the much-hyped 'fight of the century' between Floyd Mayweather and Manny Pacquiao might not have lived up to expectations last year, boxing fans expect an entertaining bout this time. With both boxers possessing an aggressive style, it could could be one of the fights of the year.