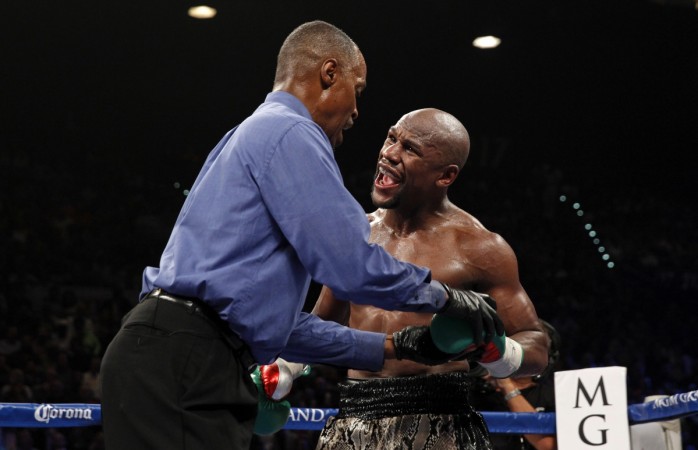 The fight of the century between Floyd Mayweather and Manny Pacquiao is expected to be the richest sporting extravaganza in the history of boxing, and World Boxing Council President Mauricio Sulaiman wants no stone unturned for the mega fight.
Such is the occasion that Sulaiman wants a very special belt for the mega fight, which has been scheduled for 2 May at MGM Grand in Las Vegas.
" For this special recognition I would like to have emeralds or platinum, but everything will be defined during the next weeks. This is because of the magnitude of the event, which will be broadcast via TV networks globally," WBC's official website quoted him as saying.
The bout between the two was one of the most anticipated ones since 2010, when the first fight between the two was expected to take place. However, the deal failed to come through then.
Boxing fans have been dreaming of the fight since and it finally saw the green light last week when the bout was officially agreed upon.
" It came in a good moment and it will be an emotive event. Both are obviously putting their legacy at stake, to prove who's the best, satisfying an enormous created expectance. They are also competing to be considered one of the best 10 fighters in the entire boxing history."
There are some critics who claim that the fight has come too late in their career to determine the greatest of the two, but there is still a lot of pride to be fought for apart from the huge money they are going to make from the bout. Mayweather is expected to earn $120 million, while Pacquiao might pocket $80 million.
Mayweather would be eager to maintain his unbeaten professional record, as he has won 47 bouts, knocking out 26 times en route his win.
But the Filipino might be a tough nut to crack, who also has a decent record with 57 wins from 64 bouts, including 38 knock outs.
Recently, boxers such as Lennox Lewis and Eddie Chambers have sided with Mayweather for a win on 2 May.
Not everyone can be a part of the mega fight, for the tickets are priced very high and there are very few tickets for the general public. Even celebs might have to purchase tickets for the bout.
"It is a big shame that tickets are staying with wealthy people. However, boxing fans will have the opportunity to watch the fight via TV. Economic interests are involved with resulting high prices," Sulaiman said.