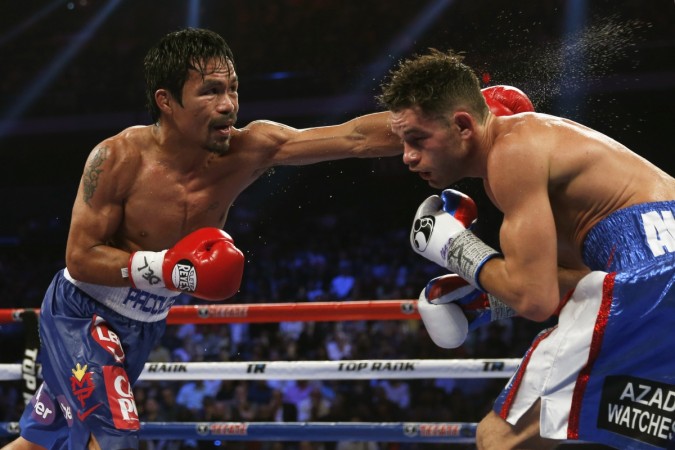 Manny Pacquiao has been one of the best boxers for some time, but he would not be considered the best unless he fights Floyd Mayweather on 2 May and defeats him. The same can be said for the American as well, who also needs this fight to prove himself as the best in the boxing ring.
Though Mayweather's unbeaten record in his professional career does state him as the best, fans around the world want the mega fight to take place.
The fight may have been stalling, but former boxers are not shy in discussing the bout.
With Joe Cortex having stated earlier that Mayweather should win the bout, another boxer, Shawn Porter feels it is the Filipino who would win the bout. So, opinions are divided regarding the fight.
Adding to it, former amateur boxer, Jose Morales has given his predictions for the bout and considers Pacquiao to be the favourite.
"I believe Manny Pacquiao will win the fight by the eighth round," says Jose Morales, as quoted by Ring Observer.
"He's more aggressive. He's very aggressive. He's very sharp, throws many accurate punches and keeps the pressure on his opponents. That's why he will win," he added.
Jose Morales is better known to have taught his son, Erik Morales to fight from the age of five, who later won world titles in four different weights categories.
Jose feels that Mayweather would not be able to take Pacquiao's aggressive style of boxing and said that the American would not be able to handle the Filipino's assault.
"He (Mayweather) show it with Jose Luis Castillo. He can't handle that aggression. Mayweather is the kind of boxer where it is very dangerous for him – the aggressive boxing – because he can't handle it."
"The punch of Manny Pacquiao can kill him very easily."
It may be futile to talk about the bout, unless the fight sees the green signal. As of now, the fight of the century has not been finalised with two networks, HBO and CBS owned Showtime, still not able to come to an agreement.
HBO is contracted with Pacquiao and Showtime with Mayweather.
As the date nears, there are growing concerns as to whether the fight would take place at all.
The fight was supposed to have taken place as early as 2009 as well, but for some reason or the other, it could not materialise.