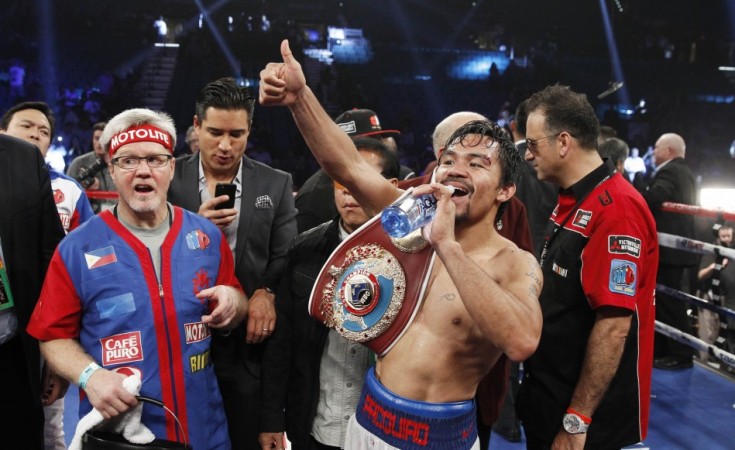 The world is aware about the fight of the century between Floyd Mayweather and Manny Pacquiao at MGM Grand in Las Vegas on 2 May.
But boxing fans were shocked by the audacity of Pacquiao's training photo, which went viral, where he is wearing a red shirt with a Pac-Man ready to munch a dollar sign.
It was this image, which was making headlines amongst the boxing fraternity. The World Boxing Organization also tweeted the photo.
What do you think about WBO Champion Manny's t-shirt? Do you like his chances against Mayweather on May 2? pic.twitter.com/lnYUdOebBF

— WBO (@WorldBoxingOrg) March 2, 2015
Many people after seeing the image instantly came to the conclusion that Pacquiao was taking a dig at the American.
Later, it was reported that the image had been photoshopped by people who were not even associated with the fighter.
The issue can be laid to rest by the photo below, which shows both the original as well as the photoshopped one.
Correction: Photoshopped* 'Pac Man' t-shirt takes early jab at Floyd Mayweather http://t.co/XG8vPpQ9CM pic.twitter.com/q6xiSRXPNP

— For The Win (@ForTheWin) March 2, 2015
Whoever photoshopped it, used his creativity to the point, as the Pac-man, which has been used in the photoshopped image is Pacquiao's nickname and the dollar used symbolises Mayweather's nickname, Money.
Money will take on Pac-Man on 2 May for the bout keenly awaited by boxing fans all around the world.
The bout has been billed as the one of the richest sporting events in sports history. As per the terms of the contract, the Filipino has agreed for a 60-40 split, favouring the American.