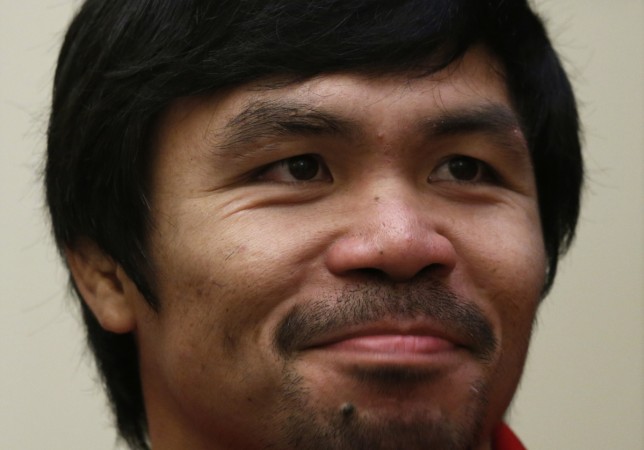 Manny Pacquiao has already started his training in the US for the mega fight on 2 May at MGM Grand in Las Vegas against Floyd Mayweather. The Filipino was expected to travel to the US on 8 March for training, but decided to come earlier, as he reached Los Angeles on Saturday itself.
His trainer Freddie Roach is only expected to start his training after he returns from Macau, where he is training Zou Shiming, who will fight against Amnat Ruenroeng for the IBF flyweight title fight.
The 'fight of the century' has been one of the most anticipated bouts for some time, as the fight was first expected to take shape in 2010 but failed to materialise.
The bout has been widely talked about and people in the boxing fraternity have been picking their favourites for the fight with greats like Lennox Lewis favouring the American.
The Filipino is aware of Mayweather's skills and has made some plans to tackle the American at MGM Grand.
"He has very good speed and footwork, and he has punches, and that makes him look good," Yahoo quoted Pacquiao as saying.
"But it depends on the fighter he is going to fight. For me as a boxer, I know what the job is. I'm going to throw a lot of punches, a lot of hard punches."
The Filipino feels that his opponents in the past have not been aggressive as they have not thrown a lot of punches. But, the Filipino has decided that he would throw punches at the American.
"There is nobody out there who really has thrown a lot of punches at him, but I'm going to do that. He is a very good boxer, but I know how to box and I can move side to side and throw punches."
So it already calls for a fight, which is going to be very aggressive, as Mayweather has one of the most powerful punches in world boxing.
Mayweather's punch has floored many boxers in the past. He has an impressive record with 26 knock outs in his 47 bouts and the American has also not lost a single bout in his career.
The Filipino must be eager to be the first person to feature in Mayweather's loss column. Will Mayweather's cent percent win record be broken on 2 May?