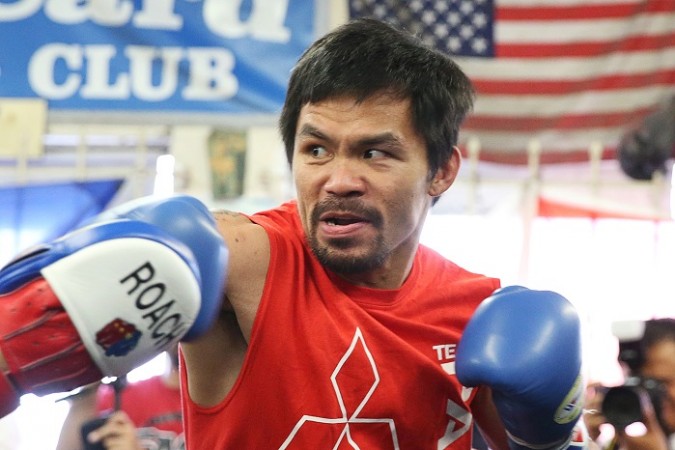 Manny Pacquiao is one of the best among the current crop of boxers, and he came out of retirement to fight Jessie Vargas earlier this month. Now, after defeating Vargas, the Filipino has set his eyes on fighting Floyd Mayweather. But for that to happen, the American has to go Pacquiao's way, come out of retirement to make the bout happen.
There were doubts as to what would happen between Pacquiao and Vargas, but he put up a dominating fight and showed that he is still the same boxer of the past, dominating bouts. He also looked in perfect shape.
Now, the boxer even feels that he is young, and wants to fight Mayweather if he decides to make a comeback. "I feel young. I feel like I'm just 25, or that I'm just 28 years old. Of course (I want to fight Mayweather), if he wants to come back (to) boxing," Pacquiao told ABS-CBN television.
Boxing fans would no doubt love the Pacquiao vs Mayweather part 2 clash to happen, but the American, who was ringside in the Filipino's last bout, has not shown direct interest in the rematch so far.
The world can wait for the Part 2 fight between the two 36-years-old boxers, as fans patiently waited for the 'Fight of the Century' to happen in 2015, which took some years in the making. Mayweather, with his strong defence and intelligent boxing, emerged victorious against Pacquiao the last time around, but the Filipino will hope to take revenge, if the bout materialises.
Pacquiao, who is currently a Senator in the Philippines, may not hang his gloves anytime soon again as he still has that belief in his skills to floor any boxer.
"I still believe in my skills. You just need discipline, how you discipline yourself and work hard. Because once you get lazy, that's the start of the decline of your performance and your body," Pacquiao said.