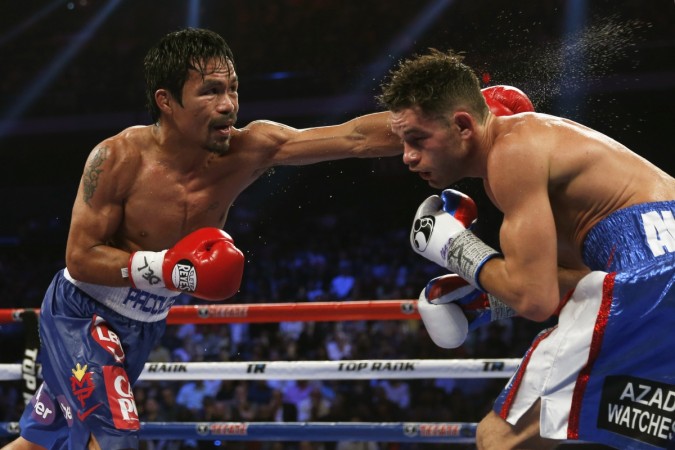 Manny Pacquiao has floored 38 boxers in his professional fights, but the Filipino is 'not really looking to knockout' his opponent, Floyd Mayweather on 2 May at MGM Grand in Las Vegas. The eight-division world champion is rather concentrating on accumulating points from each round.
Irrespective of the strategy Pacquiao opts for the mega fight, the Filipino will be the aggressor as has been the case in his previous bouts, irrespective of the result. "Pac-Man" has entertained fans with his style of boxing.
Pacquiao has a very strong punch and Freddie Roach, the Filipino's trainer has been urging his ward to use both his right and left hand against Mayweather.
"I'm not really looking for a knockout," the Daily Mail quoted Pacquiao as saying. "We're not looking only for a knockout, but at throwing a lot of punches, and also making sure that every round, we're ahead on points."
If the bout has to be decided on points, the appointed judges for the fight are going to be the centre of attention.
Under the watchful eyes of Roach, Pacquiao has been undergoing some serious training to be fully prepared for the bout, dubbed as the "fight of the century."
"Manny is punching real hard, but I want him to outscore [Mayweather] in every round. I think we can win a 12-round decision. We want to throw a ton of punches," said Roach.
Recenlty, Roach has started talking about Mayweather's fading legs as the American is no longer the boxer he used to be some years ago, as far as his movements are concerned.
The Filipino will try to use his swiftness inside the ring to his advantage. "Mayweather's legs are shot, and you saw it twice last year. He's not becoming more crowd-pleasing. He just can't move like he used to, so he has to exchange more. As long as we can hit him and then move, Mayweather can't touch us," added Roach.
"I think Mayweather will come right after us. I hope he does. We're ready."
Having said that Mayweather, who is known to possess a tight defense, will not be an easy target, despite Pacquiao's speed and agility inside the ring.