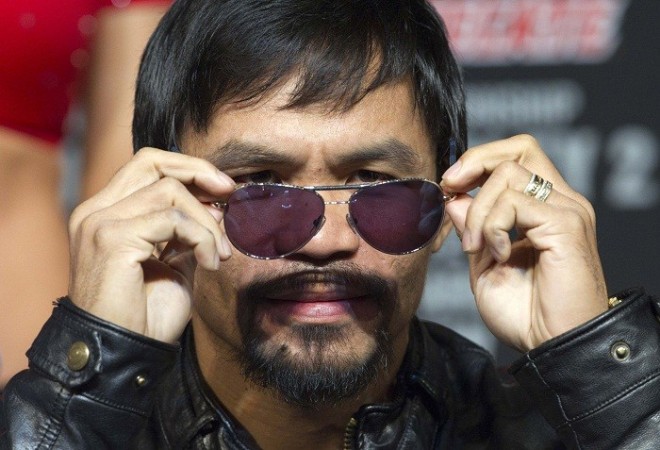 Manny Pacquiao is fighting the biggest fight of his life on 2 May at MGM Grand in Las Vegas, where the Filipino takes on unbeaten boxer Floyd Mayweather.
The fight between the two has been one of the most anticipated fights in modern boxing history, which is expected to shatter all box office records as well. No wonder the bout has been billed as the fight of the century.
Both the boxers are working out vigorously with their respective trainers in order to be in perfect shape for the mega bout.
Manny Pacquiao, who is working under the guidance of Hall of Fame trainer Freddie Roach, had been very open to interviews in the recent past, but the Filipino and his team have decided to shut down the boxer's training room at the Wild Card Gym, where he is undergoing training.
"I'm not complaining about interviews. They help us promote the fight and help the people know what's happening in the camps. This is just the first time I'm asking for time to focus," Pacquiao told LA Times in an interview.
"There's something I need to achieve in this camp, especially mentally."
"You have to focus without interruption after your activities of jogging, training... I don't want to focus on anything other than boxing."
Such a stance by the Filipino just confirms the importance of the fight at MGM Grand. He does not want other external factors like the media to disturb his preparations.
There have been a number of huge fights, which the Filipino has fought in the past, but this one surpasses it all, not only in terms of the revenue, which is expected to be generated but also the massive pride, which is at stake.
Mayweather's record inside the ring is one of the best where he has not lost a single bout in his 47 professional fights, while Pacquaio may have lost five but has won an impressive 57 of his 64 fights.
The Filipino, who is also known for his Christian beliefs, also believes it would be a huge honour to win the fight and bring honour to Philippines. Pacquiao is one of the most well-known sportspersons in his country and is also considered a national icon.
"I'm coming to the ring to win the fight and bring honour to my country," he said.
"Everyone knows how important this fight is, and for me it's really, really, really important because it's a once-in-a-lifetime fight. It's a big responsibility for me to win."