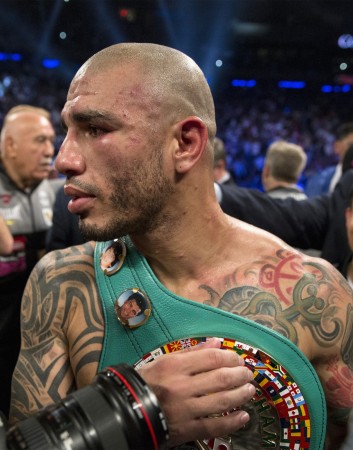 While people related to the sports of boxing have been making their predictions for the mega fight on 2 May between Floyd Mayweather and Manny Pacquiao, Puerto Rican professional boxer Miguel Cotto did not choose any favourite, but considered that it will be a great fight.
Boxers such as Eddie Chambers and Lennox Lewis have recently stated that the American may be the favourite for the fight at MGM Grand, Las Vegas, while one of the most well known trainers Freddie Roach, who will also train the Filipino for the mega fight, believes Pacquiao will win the bout.
Cotto could have been one of the best persons to give predictions for the fight, as he has fought both the boxers and is aware of their style of boxing inside the ring, but he chose not to take sides.
He fought against the Filipino in 2009 and the American in 2012. He lost on both counts.
"Both camps know what to do. They will implement[their strategies] and we are going to see a great fight. [I won't be at the fight], I'll be training for my fight," boxingscene.com quoted Cotto as saying.
The boxer would not be able to watch the mega bout from ringside, as he would be involved in his training camp.
Exactly two months remain for the fight, but the bout has already been widely talked about throughout the world, as it is also expected to be one of the richest sporting events in the world.
Tickets are expected to be priced at a premium, where even the celebs might have to cough up huge money to find a seat at the MGM grand. As for the general public, it looks an even more difficult job with very limited seats at the venue.
The bout between the two has been a highly anticipated fight in the modern era. The fight was initially expected to take shape in 2010, but did not materialise during the time.
This fight too looked improbable initially with negotiations dragging on and it was only a few days ago that the deal was finally struck for the bout to take place on 2 May.
Had this fight not taken place this time, it might have never taken shape for both the boxers do not have much time left before they hang their boots. Mayweather is 38 years old, while Pacquiao is 36.