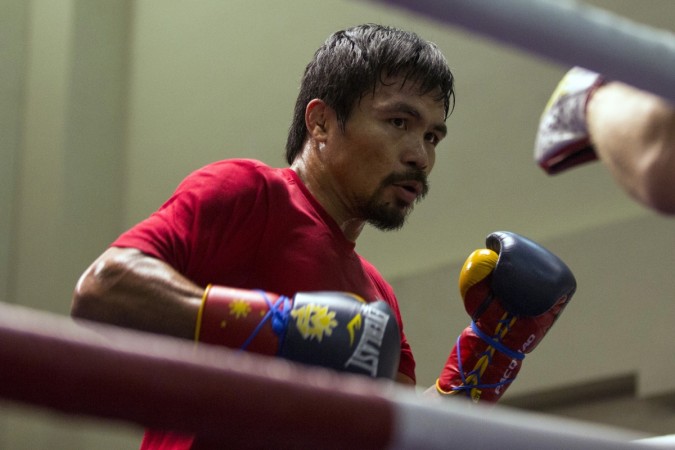 Great bouts have taken place in boxing history and the 2 May fight at MGM Grand in Las Vegas between Floyd Mayweather and Manny Pacquiao has been billed as one of the greatest in the modern era.
Such are the expectations from the fight that the bout has been termed as the fight of the century.
Some fights, which immediately crop up to mind when one talks about great bouts are Marvin Hagler vs. Tommy Hearns bout in 1985, Micky Ward vs. Arturo Gatti I in 2002, Sugar Ray Leonard vs. Tommy Hearns in 1981 and to top it all, Muhammad Ali vs. Joe Frazier III fight on October 1, 1975.
But one of the most well known boxing commentators, Larry Merchant compares the fight between Pacquiao and Mayweather to Lennox Lewis and Mike Tyson bout, which took place in 2002.
"Floyd Mayweather-Manny Pacquiao is the biggest fight since... Mayweather-Dela Hoya in terms of interest but it's more like the Lewis-Tyson in 2002," Merchant told boxingscene.com.
One might raise eyebrows when Merchant compares the bout to Lewis-Tyson in 2002, rather than the fight of the century bout between Muhammad Ali vs. Joe Frazier, but the commentator gives his reasons for the similarities between the 2 May fight and Lewis-Tyson bout in 2002.
"It's because how long it took to make the fight and because in a way, Mayweather is like the heavyweight champion in America. He's the guy who filled the void of real heavyweights as a box-office attraction. So in that sense, it's fair to compare them," Merchant said.
This bout between Mayweather and Pacquiao has been attracting huge interest, but everyone cannot be a part of the mega event, for there is a huge demand of seats at the MGM grand.
Even celebs might have to shell out huge money to watch the bout at the MGM Grand, as complimentary tickets might be hard to come by.
There are very limited seats for the general public and those at the offing might also not be affordable for many.
The fight is expected to break all box office records that exist in boxing history with the Filipino having agreed for a 60-40 split in favour of the American.