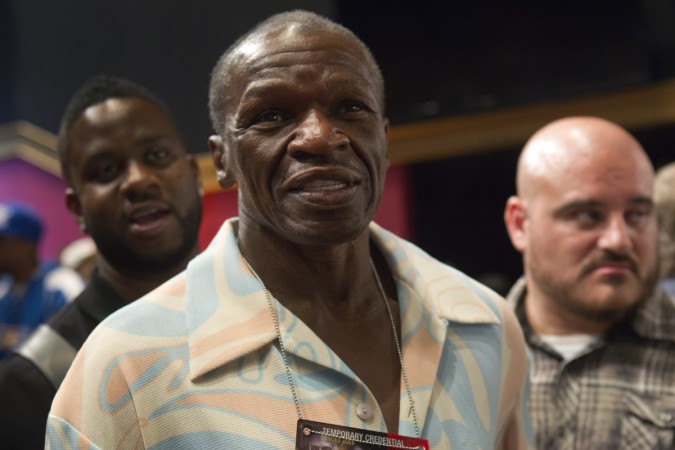 Floyd Mayweather has had an impressive boxing career so far, where the American has not lost a single bout, with 26 knockouts in his 47 fights. The boxer is undergoing some rigorous training with his trainer, Mayweather Sr, who is also his dad.
The unbeaten champ's father said that he would be shocked if his son loses his much-hyped bout against Manny Pacquiao on 2 May at the MGM Grand in Las Vegas.
"I don't know (what I would do if Floyd lost)," Mayweather Sr. told Mlive.com.
"I would continue to be myself. I would continue to be myself...and I would still deal with my friends and things like that. I'm gonna be honest with you , that would be big.
"I have to say it would shock me. It would shock the hell out of me. But, you've still got to live on, man."
But, Mayweather Sr did concede that he is not going to hide even if Floyd loses the fight, which is set to be te richest in the sport's history.
"I'm not going to hide because it happened," added the boxer's father. "But, better yet, to be honest, I'm just saying that it's God's will, you know? I think that it'll be all right."
Though, there may be a number of well known boxers such as Eddie Chambers and Lennox Lewis, who may have sided with Mayweather, the boxing fraternity knows that the American cannot take the Filipino lightly.
One can expect a tough bout between the two, where Pacquiao is training under the watchful eyes of Hall of Fame trainer, Freddie Roach, who has been very vocal about his ward defeating Mayweather.
The American has been fighting sparring partners inside the ring who have a similar fighting style to that of Pacquiao to be in perfect shape for the fight.
Pacquiao could prove to be Mayweather's biggest test so far, as he has never faced a boxer like "Pac-Man", who is one of the best southpaw boxers.
Apart from him being a southpaw, the Filipino is very quick on his feet and moves from one corner to the other in a matter of seconds, which might make it difficult for Mayweather. Pacquiao also bags an impressive punch, which would test Mayweather's defensive skills, which is considered to be the best in the business.
How these boxers fight on 2 May will be determined by their preparation. Therefore, Roach and Mayweather Sr will play a big role in shaping the eventual result of the mega fight.