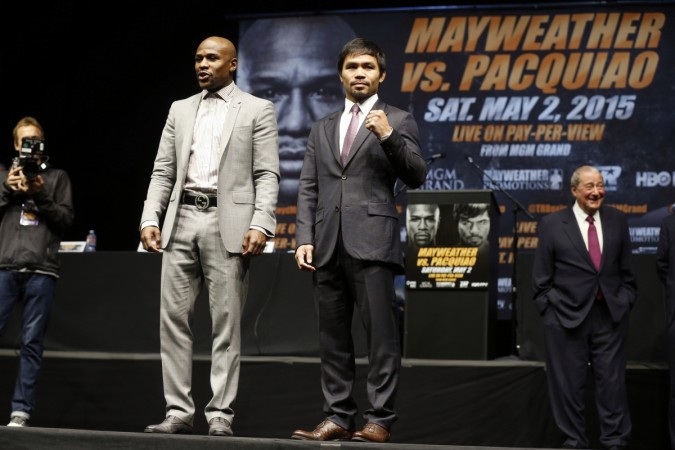 The fight of the century between Floyd Mayweather and Manny Pacquiao on 2 May at MGM Grand in Las Vegas is expected to break various kinds of records that exist in boxing history, including the richest fight as well.
But this should not come as a huge surprise with the best pound-for-pound boxers inside the ring. The tickets for the fight despite being expensive were also reported to have been sold in a matter of hours, which establishes the magnitude of the fight.
No boxing fan would want to give this fight a miss, as the bout had been pending for about five years.
The fight is expected to shatter another record as well for the money generated by the sponsors. Around $13.2 million is expected to be made from five title sponsors. The previous record stood at $3.5 million to $4 million, while the current one is three times more.
Amongst the various sponsors, it is the $5.6 million sponsorship from Tecate, the official beer of the fight, which stands tall in the fight. With such huge figure on the sponsorship table, Tecate's logo would be plastered on the ring mat where the bout is going to be fought.
And obviously, their beer would be sold during the fight. Tecate outbid one of the most well known beer brand, Corona, who had placed a bid of $5.2 million.
But Tecate is not new to boxing fans, as they have been sponsoring the sport for around eight years now.
"We have been sponsoring boxing since 2007 so we have been associating ourselves with boxing and been waiting for so many years for a fight like this," Tecate brand director Gustavo Guerra told ESPN.
"We know in the past we have had great fights but nothing is going to be compared to what is already called the fight of the century. We wanted to increase our brand awareness and we will achieve it with this fight.
"It is like the Super Bowl of boxing, a gigantic sporting event. It's good for us. It's about credibility. We cannot have the luxury of being out of this fight. This is very important for us," he added.