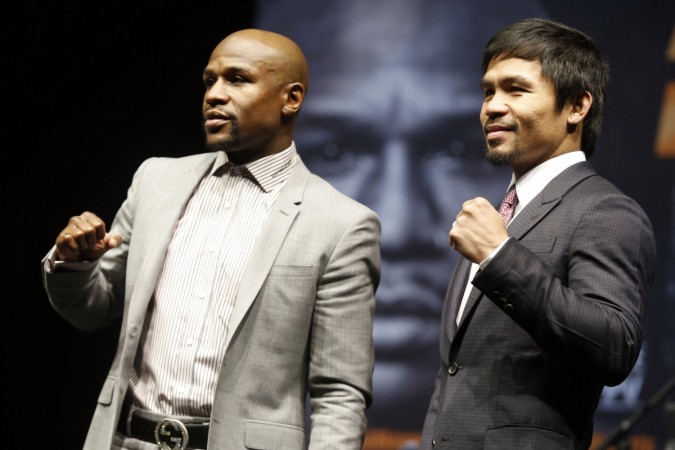 An estimated $400 million (£270 million) in revenues is set to be generated by the welterweight title unification fight between two of the best boxers of this generation -- Floyd Mayweather Jr and Manny Pacquiao.
The live gate for the fight scheduled to take place on 2 May at the MGM Grand Garden Arena will reportedly generate a whopping $74m (£50m) from the sale of around 15,000 tickets, Top Rank chairman Bob Arum told ESPN.
This figure will be almost four times more than the existing record of $20,003,150 (£13.4 million) generated from the gate revenue of the light-middleweight unification fight between Mayweather and Canelo Alvarez that also took place at the MGM Grand Garden Arena in September 2013.
After Mayweather-Pacquiao fight was officially announced in February, Top Rank and Mayweather Promotions were initially looking to double the ticket price from £13 million to a record £27 million, with tickets ranging from £670 to £3,400.
However, due to overwhelming demands, the gate prices were raised to £1,000 to £5,000, reaching an overall total of more than £34 million. Finally, after further increasing the ticket prices, the most expensive ticket is priced at £6,700, and the total revenue from the gate fee is expected to be around £50 million.
The fight, which has been building up for the last six years, is also expected to shatter the 2.4 million pay-per-view record in USA, which was generated during Mayweather's fight against Oscar De La Hoya in 2007.
The fight is expected to attract around 3 million pay-per-view viewers in the USA, Canada and Puerto Rico. This means that the revenue from the pay-per-view, which is expected to be priced around $100 (£67) per television, has the potential to reach $300 million (£200 million).
The Mayweather-Pacquiao bout is also expected break the record of 1.2 million pay-per-view buys (set during Mayweather and Ricky Hatton's fight in 2007) in the UK despite none of the fighters being a Brighton.
"Between the gate, the foreign television sales and the closed circuit, which we can't even calculate yet, you're looking at over $120m (£80m) -- and that's before one pay-per-view has been sold in the US," Arum added.
Mayweather will be getting 60% of the revenue, while Pacquiao will be getting the remaining 40%.