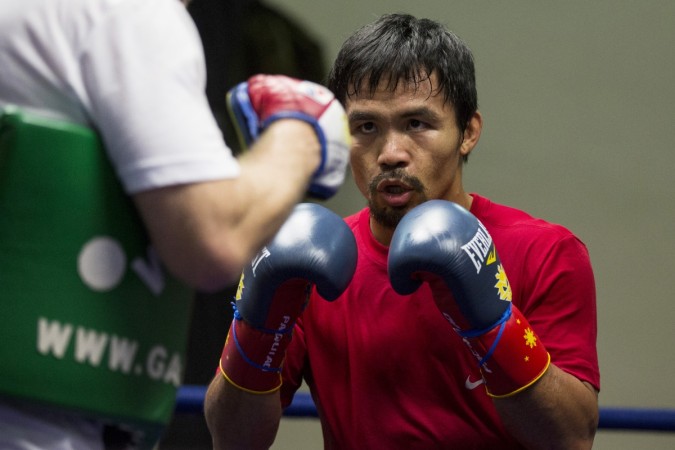 After the retirement of Floyd Mayweather from the boxing circuit last month, Manny Pacquiao is also set to hang his gloves after his 9 April bout next year. The fight, irrespective of his final opponent, will draw curtains to one of the most popular and successful boxers' career.
However, the charm of boxing will not be the same as two best boxers (Mayweather and Pacquiao) of the current generation will no longer be seen in the ring. May be, it is time for other boxers such as Gennady Golovkin to take over the mantle from these superstars.
Top Rank promoter Bob Arum, who met Pacquiao for dinner in New York, stated that Pacquaio will focus on his political career after his retirement.
"I'm telling you what he told me last week at dinner in New York," ESPN quoted Arum as saying.
"We talked very seriously, and he said, 'Bob, hopefully, by the middle of May I will have been elected senator in the Philippines, and at that point I cannot engage in boxing because I need to focus on the senate and I have to be in attendance."
"Manny told me this fight on April 9 will be his last fight."
Pacquiao, who has won world titles in eight weight classes, is one of the most popular athletes in his home country, Philippines. Pacquiao has an impressive record in the sport with 57 wins and two losses in his 65 fights career.
His last loss came against Mayweather during the 'fight of the century' where the Filipino lost via points. However the fight, which took many years in the making, helped Pacquiao pocket around $180 million.
It will not be wrong to state Pacquiao popularised the sport of pro boxing in the Philippines.
Arum is not disappointed with Pacquiao's decision to retire after his last fight in April.
"Manny told me this would be his last fight, and I'm not sad about it, because he's going on to a political career which will require a lot of mental acuity, so you don't want him to stay in boxing too long," Arum said.
"If he stays in boxing a little too long, his mental faculties might be somewhat impaired."
Now the all important question remains – who will be his final opponent in April? Amir Khan, obviously, could pose as a strong contender for he has come close to a fight against the Filipino in the past, but could not materialise. This is surely Khan's last chance. Terence Crawford's name is also doing the rounds as another major contender.