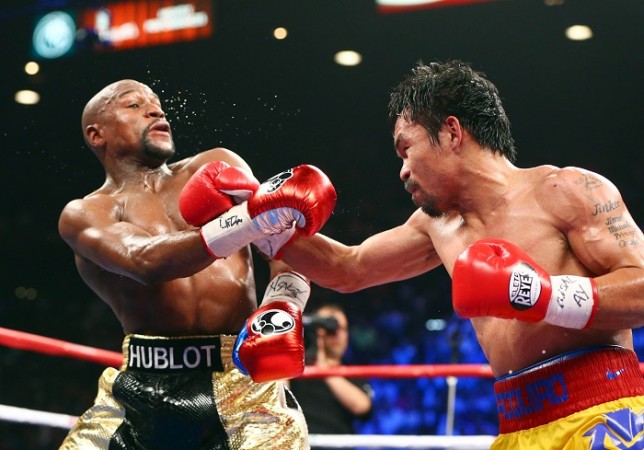 Manny Pacquiao is set for a return inside the boxing ring on Nov.5 at Thomas & Mack Center in Las Vegas. His opponent has not been named so far, but there are three serious contenders - Danny Garcia, Jessie Vargas and Terence Crawford. Though Floyd Mayweather's name might not be doing the rounds for this bout, the Filipino could take on the American in the near future.
For the fight to happen, Mayweather also needs to come out of retirement. The American called it quits after defeating Andre Berto in September 2015, thus equalling Rocky Marciano's 49-0 record. He will get a chance to secure his 50th win, if he decides to box again.
Mayweather and Pacquiao made huge money after their 'Fight of the Century' in May 2015, and trainer Freddie Roach believes the Filipino wants a rematch. Roach further believes that Pacquiao will defeat Mayweather if fully fit, as the Filipino had some fitness concerns ahead of the bout in May last year.
"I know Manny wants the rematch really bad, Manny thought he won the first fight and if you look at it with no commentating, you watch and see him landing more punches. I still was a little disappointed in Manny's performance but now he's one hundred percent and I think at one hundred percent, he will destroy him," Roach told ontheropesboxing.com.
Mayweather has visited Roach's gym a few times, but if there is any chance of the dream bout, promoter Bob Arum, along with Roach, will leave no stone unturned to fashin the 'Fight of the Century – Part 2'.
"That's probably the only reason that we're staying in the game, because we do want a rematch with Mayweather and we would like to get that. Mayweather has been to my gym a couple of times and I saw him at a restaurant in LA one time and he took pictures with my friends, he was very polite and very nice," Roach said.
"Mayweather told me he hasn't trained a day since he retired and I said, 'Hey, I thought you were a gym rat, you're always in the gym,' and he said, 'I haven't worked out a day since I retired.' I told him, 'There's still some big fights out there for you.' I didn't ask him about Manny at all but I don't know the real reason why he's coming by to visit.
"He doesn't want me to be his trainer I don't think, but I thought maybe it was for him and Manny to get together one more time."
Roach and Pacquiao will be more than eager to get that rematch, and help the Filipino become the first pro boxer to defeat Mayweather, but as of now, he has to concentrate on his Nov.5 fight. It will be interesting to see who Pacquiao chooses as his opponent considering he will have no more than 20 days to train for the bout.
The Filipino is currently busy doing his duties as a Senator in the Philippines.