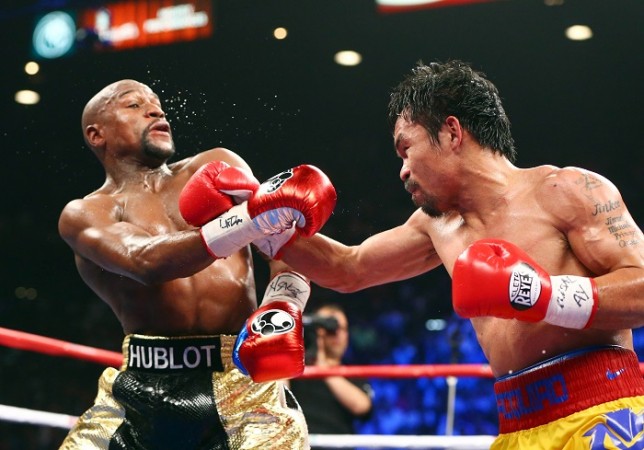 British Boxer Amir Khan was left disappointed after Floyd Mayweather opted for Andre Berto as his final opponent for the September 12 fight, despite being one of the favourites to fight the pound-for-pound king.
But, all it is not all doom and gloom for for Amir Khan, as he could land up with another big name in the sport of boxing in Manny Pacquiao. Amir Khan has received a major boost with Pacquiao's promoter Bob Arum stating that he might arrange a Manny Pacquiao vs Amir Khan fight soon.
"This kid Amir Khan keeps shooting his mouth off about Manny Pacquiao. I can arrange for Khan to fight Pacquiao," The Telegraph quoted Arum as saying.
But, Arum has clearly mentioned that the fight cannot take place this year. Instead, the chances are the fight being sanctioned for sometime in 2016 in the Middle East. Las Vegas, which has hosted big bouts including the fight of the century between Mayweather and Pacquiao, is also a possibility.
Pacquiao is recuperating from a shoulder surgery suffered during the fight against Mayweather.
"Manny's not going to fight this year," he said.
"He'll fight early next year and probably in the Middle East. Vegas is a possibility, but more likely in the Middle East. It won't be in Dubai, but it will be in the Middle East. If not, we'll do it in Vegas."
The fight between Amir Khan and Pacquiao in the Middle East makes sense, as both the boxers have good support in the region.
"There's two different groups in the Middle East [who want to host the fight]. I'd like to do Pacquiao against Amir Khan, but they'll take Manny against any decent guy," said Arum.
However, the hot topic amongst boxing fans in the world is Mayweather's choice of his last opponent -- Andre Berto -- who has lost three of his last six bouts. Though Mayweather has defended his choice, Arum has criticised the American.
Arum feels Khan could have made the fight much more interesting.
"That's a farce. Mayweather should have fought Khan next. It would have been an interesting fight," he added.