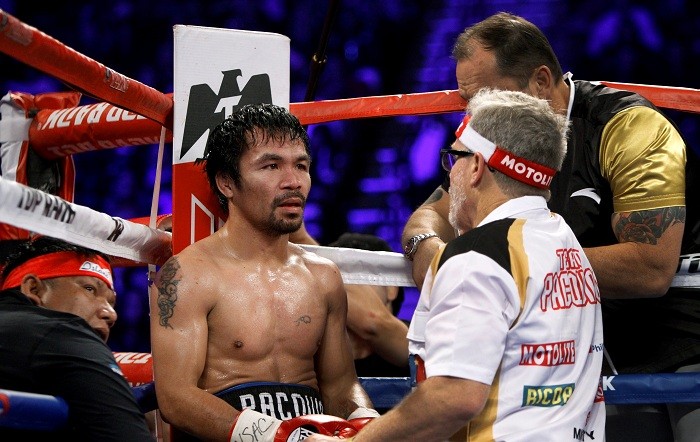 Manny Pacquiao, one of the greatest boxers to have ever graced the sport of boxing, took to Twitter and announced that talks are taking shape for a bout against Amir Khan. The Filipino had recently asked his fans on the social networking site as to who should be his next opponent and 48 percent of the boxing fans had voted for Amir Khan.
A few days after he introduced that poll, his next update on the upcoming fight, earlier today, is what must have excited the fans, who have always wanted to see Pacquiao and Khan fight inside the same ring.
However, one should not take this tweet as an official confirmation for the fight as camps of both the boxers will have to agree to a number of terms and conditions, which can always be a roadblock. If this fight happens, it is also going to be a dream come true for Khan, who has in the past always shown huge desire to fight Pacquiao.
The Filipino was expected to fight Jeff Horn in April in Australia, but that was never his first priority and only a backup plan. With Pacquiao said to have received a huge offer from UAE, it makes sense for the boxer to fight in the country. One thing is for sure, both the involved boxers will make immense money from the fight in the UAE, as they have some huge fan following in the country.
Boxing fans will purely look into the action, which is going to take place in the middle of the ring, that could produce some magical moments. Pacquiao and Khan are established and aggressive boxers, who love to have a go at one another, making it mighty interesting.
Both the boxers' record speaks volumes about their achievement inside the boxing ring, but it is such fights, which will prove their mettle. Pacquiao has won 59 of his 67 bouts, while Khan has an equally impressive record of 31 wins from 35 fights.
One should not be too carried away with the fight, and just hope that the bout does happen, and is announced officially soon.