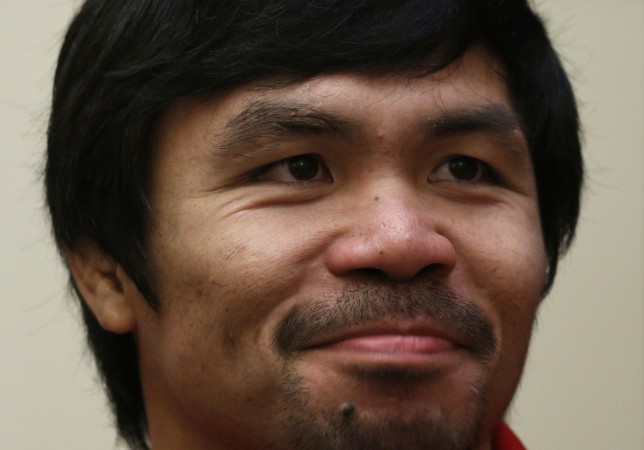 Things cannot get any worse for Manny Pacquiao, who suffered defeat against Floyd Mayweather in the fight of the century on 2 May, as the Filipino might have to face disciplinary charges for failing to inform the people concerned about his shoulder injury.
When the weigh-in was conducted on Friday, the boxer checked 'no' while filling the commission questionnaire regarding injuries.
Nevada Athletic Commission chairman Francisco Aguilar will look into the matter and gather facts.
"We will gather all the facts and follow the circumstances," AP quoted Aguilar as saying. "At some point we will have some discussion. As a licensee of the commission you want to make sure fighters are giving you up-to-date information."
Pacquiao's shoulder injury was known to U.S. Anti-Doping Agency (USADA), who had approved the boxer to take anti-inflammatory shot, but the agency was only a third party for the fight of the century.
The Filipino was denied anti-inflammatory shot just hours before the fight as the Nevada commission had no idea about Pacquiao's injury. Had the Filipino informed the commission prior to the bout, things may have worked out in their favour.
Nevada Athletic Commission executive director Bob Bennett felt Pacquiao was dishonest about his shoulder injury.
"It's not just the fact he didn't fill out the question completely, it was that he wasn't honest and they didn't tell us a month ago when he had the shoulder injury," Bennett said. "They're not obligated to, but two hours before the fight they wanted a shot that's a pain killer in essence. That put us in a very precarious position."
Even USADA is surprised as to why the boxer checked 'no' on the form. Travis Tygart, CEO of the agency stated it was a mistake not to follow the rules.
"We had no medical information, no MRIs, no documents," said Travis Tygart.
"It was not an anti-doping issue. The real question is why his camp checked 'no' on the disclosure. Either they made a terrible mistake to not follow the rules or they were trying not to give information to the other side. I'm not sure there's a middle ground."
The Filipino could either face fine or suspension for not disclosing his injury. Pacquiao is said to undergo surgery on his torn rotator cuff, as a result of which he will be out of action for 9-12 months.