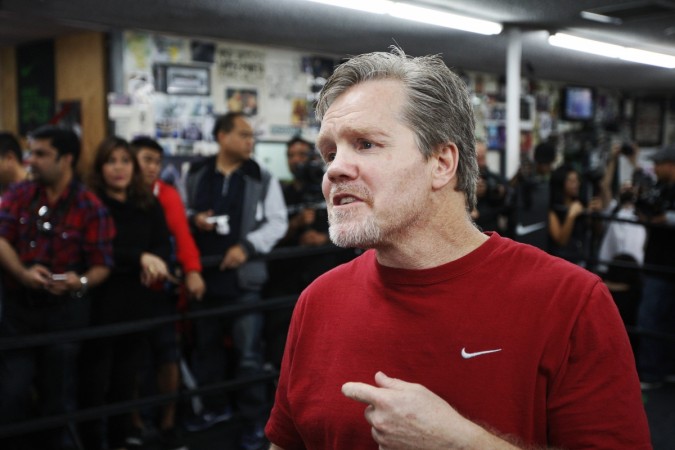 Freddie Roach, Manny Paquiao's trainer, has been talking a lot about the Filipino's fight against Floyd Mayweather. The trainer believes that the Filipino will beat the American and, in fact, knock him out as well.
Both the boxers have already started their training with their respective trainers, and with Roach being at Pacquiao's corner, it is going to be an added advantage for the Filipino, as Roach is said to be one of the best boxing trainers in the world.
Roach has been talking about the game plan, which is in store for the 2 May fight at MGM Grand in Las Vegas. With Roach having an experience of a number of years in the boxing world, he is aware of Mayweather and his style of fight.
Roach feels that Pacquiao will knock out Mayweather, which is a huge statement from the trainer, considering Mayweather's record, which is superior to the Filipino.
"We do have a good game plan going down; I do think he will knock this guy out. Because again, he's really motivated and again I don't think he likes this guy and this is the first time in my life I've really come across that," the trainer told The Jim Rome Show.
If the Filipino manages to knock out the American, it is going to be for the first time that Mayweather will finish second best in his professional career, who enjoys an unbeaten run of 47 wins, while Pacquiao's record reads 57 victories in 64 bouts.
One look at Pacquiao's track record suggests that the Filipino has not taken down an opponent in the last six years or so, as he knocked out his last opponent in 2009 (Miguel Cotto), and to the contrary, he has been knocked out in 2012 by Juan Manuel Marquez in the sixth round.
"The thing is the religion has taken away the killer instinct a bit over the years and I will agree with that somewhat Jim... for some reason, Manny Pacquiao I've never seen him dislike an opponent in my life, but you know what, he doesn't like this guy," added Roach.
"He won't say anything bad about him, but he won't say anything good about him either. I think this is a perfect opponent."
Though, both the camps may have different things to say about one another, it remains to be seen as to who will have the final laugh on 2 May bout, which is expected to be the richest sporting event that the world has ever seen.