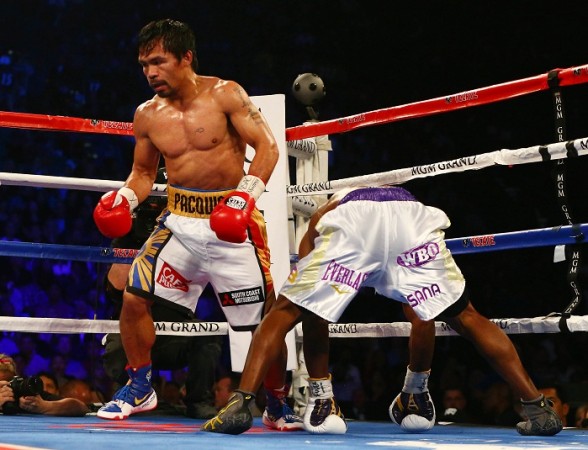 Filipino boxer Manny Pacquiao hung his gloves after defeating Timothy Bradley in April 2016, but well-known promoter Bob Arum feels he could make a return in October. After quitting the sport, Pacquiao has been actively involved in the politics, so the million dollar question remains if he has the time to come out of retirement, get in shape, and fight later in the year.
Arum, who played an important hand in making the "fight of the century" take shape, is trying to finalise on an opponent for Pacquiao. After doing so, he will head over to Philippines, and see if his tight schedule as a senator will make the fight doable.
"We are thinking about him fighting in October if he wants to fight. Once I get the opponent that I am working on - we are working on opponents and once I get that, I will fly over to the Philippines and he will see if his schedule in the senate allows him to train for a fight and participate in a fight," boxingscene.com quoted Arum as saying.
"I know he wants to continue fighting but the impediment is how labor intensive his work as a Filipino senator is and he is not going to really know that for another week or so. He was just sworn in as a senator yesterday."
For such things to happen, he needs to come out of retirement, and if he does, Arum has some major plans for Pacquiao for next year as well. Boxer Vasyl Lomachenko has been coming up with incredible performances of late, and the WBO super featherweight champion wants to fight only the best.
Arum believes if the 28-year-old shows such form with consistency; he can line up a major fight with Pacquiao in 2017. Now, that fight, if it takes place, will be a treat to the fans, and Lomachenko will surely be tested to the core.
"Let me tell you, by the way he is going, if Manny continues to fight, sometime next year I wouldn't hesitate to match Lomachenko against Pacquiao. That would be a hell of a fight," Arum said.