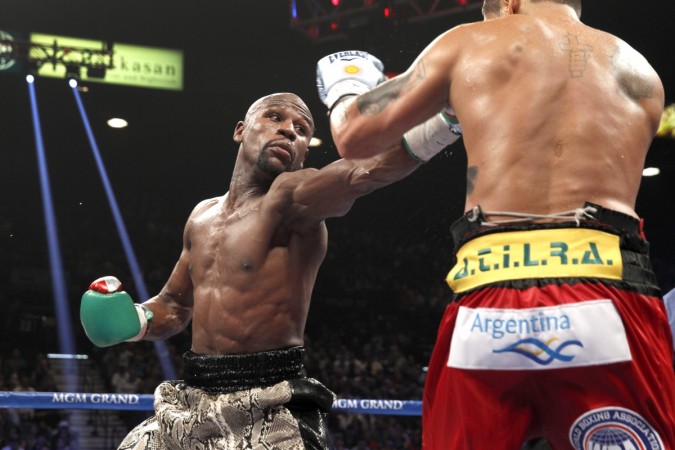 Floyd Mayweather has never been knocked out in his professional career, but there were rumours suggesting that the American was floored by his sparring partner Zab Judah as the American is preparing for his fight against Manny Pacquiao.
But Leonard Ellerbe, adviser to the champion boxer, came out in defence of Mayweather and stated that the knockout never happened and claimed it to be false.
"False. No. Zab is in camp. Zab is a tremendous fighter - he's been helping with the preparations along with several other sparring partners."
"They are really pushing Floyd, but nothing like that. It never happened."
Both the boxers are involved in some serious training with their respective trainers and are said to be fighting with sparring partners to keep them ready for the mega fight on 2 May at MGM Grand in Las Vegas.
For this fight, which has been billed as the fight of the century, Mayweather's preparation is no different from other trainings, says Ellerbe.
"Floyd isn't doing anything different from how he would normally prepare," said Ellerbe. "Floyd is treating this fight and the preparation as business as usual."
"He always prepares and takes every challenge very, very seriously and he prepares at his best for each and every fight. This fight will be no different."
Though Ellerbe might have said that the fight will be no different, this fight cannot be compared with any other fight of recent times. This bout has been one of the most anticipated ones in boxing history.
The fight is expected to be one of the richest sporting events in the world. It is not only about the money, which is going to be split between the two, but the pride at stake will make the fight even more interesting.
There is not much to choose between the American and the Filipino, for they have proved to be great boxers of the modern era, but experts and former boxers have been talking about their favourites for the match.
It is understood that the bout is going to be an entertaining one, especially with the records they have in their professional career.
Manny Pacquiao have won 57 of the 64 bouts with 38 knock outs, while Floyd Mayweather has been even more impressive with an unbeaten record in his 47 fights with 26 knock outs.