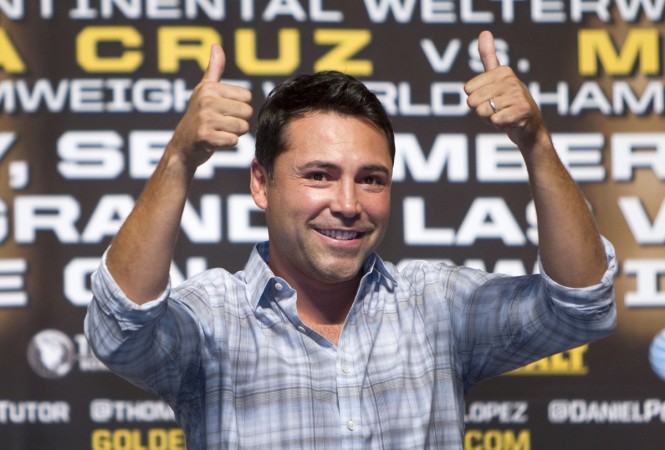 Boxers around the world have been picking up their favourite for the fight of the century between Floyd Mayweather and Manny Pacquiao, but there is not much to choose between the two boxers, who have been impressive in their career so far.
Oscar de la Hoya, who won a gold medal in the Barcelona Olympic Games considers that the fight between the two will be a great one because of their respective styles.
"I feel that come May 2, it's going to be such a great fight because of their styles," De la Hoya said, as quoted by The Desert Sun.
"Pacquiao is going to force the fight. It's a matter of if Pacquiao can cut the ring off and connect them. I think it's going to be a wonderful fight."
One needs to give a considerable weightage to the words of De la Hoya, as the boxer has fought both the American and the Filipino in his career, so he knows their strategy when they are inside the ring as well.
It has been more than five years that he faced these boxers inside the ring.
Hoya believes Pacquiao is the same fighter, "aggressive, fun to watch, never a dull moment,'' but considers that the American has changed a bit as he does not take many risks.
Come 2 May at MGM Grand in Las Vegas, it would not be surprising to see Mayweather take risks, for he would be more than eager not only to defeat the Filipino, but also to maintain his unbeaten record in his professional record of cent percent wins in his 47 bouts.
Boxers such as Lennox Lewis and Eddie Chambers might have considered Mayweather as favourite for the bout, but whoever has a good day inside the ring will walk victorious.
The fight between the two is expected to shatter all box office records as well, as it is going to the richest sporting event in the world.
Such has been the anticipation for the fight that the tickets for the mega fight is also set to cost huge money and even celebs might have to pay for their tickets to watch the game at MGM Grand.
But, there is some bad news for the general public, as there might not be many seats for them to watch the bout and those few seats are also going to cost a dime.