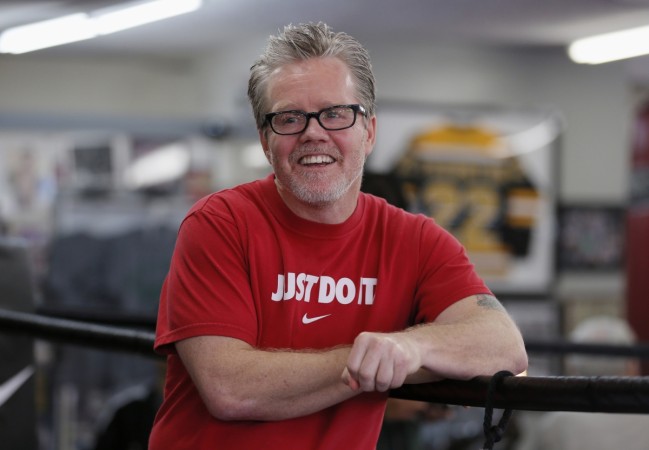 Just two weeks remain for the mega fight between eight-division world champion Manny Pacquiao and Eleven-time, five-division world boxing champion Floyd Mayweather on 2 May at MGM Grand in Las Vegas.
The fight has already been one of the most talked about event in the boxing circuit as one expects the bout between the two to be an entertaining one. People around the world have waited long enough for this fight, which was expected to be fought some five years ago.
Despite the wait and claims that the boxers are not in their prime now, the bout will not be short of intensity, for both the boxers have been involved in some serious training with their respective trainers, who have been talking aloud about the fight and their opponent.
Freddie Roach has been the most vocal and this time he has gone ahead and stated that the American cannot be considered the best, though he gives Mayweather "little credit" for being undefeated.
"Mayweather is undefeated so you have to give him a little credit for that," Daily Mail quoted Roach as saying, "but he has picked and chosen his opponents and I don't think he's fought enough competition to be considered the best. You have to fight the best to be the best, I feel. He's ducked a lot of guys."
There are a number of boxers going around in world boxing, who might put forward their claim of being the best that includes Manny Pacquiao and Gennady Gennadyevich Golovkin as well, for these boxers have also proved themselves in the circuit.
Roach even puts Ward and Golovkin above Mayweather. "I'd put Ward and Triple G (Golovkin) above Mayweather right now. They are very talented guys and very polished boxers."
Talking about the bout between "Pac-Man" Pacquiao and "Money" Mayweather, Roach, who has always taken a dig at Mayweather's legs, which he feels are slow now, believes if the American's legs do not give out, Mayweather may win.
"If Mayweather goes to the ropes and tries to rest his legs, he will get beat. If he has good movement the entire night and his legs don't give out on him, he'll probably win. It's about outscoring him. If he sits on the ropes, we can outscore him. If he stays in the middle of the ring and boxes all the time he could possibly outscore us," added Roach.
Both the boxers are sure to come with their A game, and one can expect these two future hall of famers to live up to the expectations of the bout, which has been dubbed as the fight of the century.