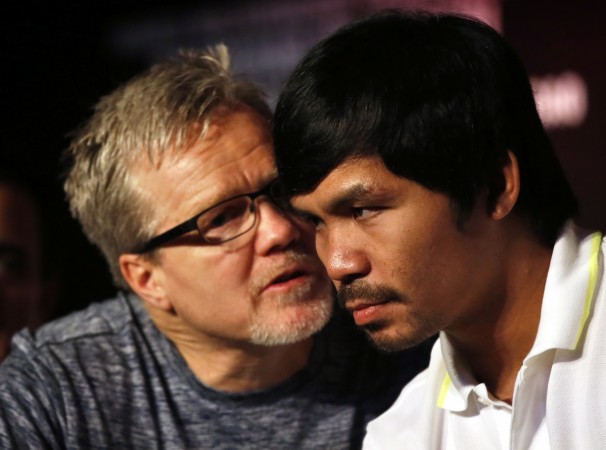 There may be a number of experts and former boxers who have sided with Floyd Mayweather to win the bout against Manny Pacquiao, but the Filipino's trainer Freddie Roach has some plans up his sleeve to defeat the American.
Mayweather has not lost a single bout in his professional career till date, as he has won 47 bouts, -- 26 of them being via knock outs -- so it is obvious when people choose the American.
The Flipino was expected to travel to the US for training on 8 March, but Pacquiao decided to pre-pone and has reached the US where he is expected to train in the Wild Card gym for the mega fight on 2 May at MGM Grand in Las Vegas.
"I won't tell you what the game plan is because that will be very silent. The whole Wildcard Gym [in Los Angeles, where Pacquiao is training] will be shut down and we will work out Manny's best strategy and nobody will watch it," boxingscene.com quoted Roach as saying.
But Pacquiao's trainer is currently training two-time Olympic champion Zou Shiming, who is scheduled to fight Thailand's Amnat Ruenroeng for the flyweight world title on 7 March.
Roach is only expected to travel to the US next week, after which he is going to start some serious training with the Filipino.
Mayweather and Pacquiao were expected to fight in 2010, but the negotiations during the time failed, due to which they two couldn't come together for the bout.
Had the bout taken place then, it could have been a bigger fight than this one, for they were considered to be at their prime during those days.
Obviously, their style may have changed a bit as well. But, Roach considers that the American has faded a bit more than the Filipino.
"I studied him [Mayweather] quite a bit. He's a good fighter, don't get me wrong, but he's a bit boring. We have to dictate the pace of the fight, we have to throw more punches. He's very defensive."
Though the fight has come a little late in their career, there is still a lot of pride to be fought for amongst the money that would be at the offing for the bout. It is expected to shatter all box office records.