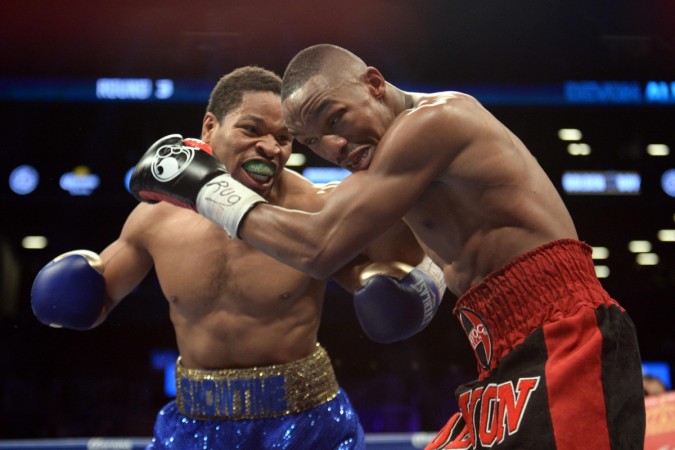 Though the fight of the century between Floyd Mayweather and Manny Pacquiao may have failed to see the light of the day as of now, people associated with the sport still have given their predictions for the bout, which has been tentatively scheduled for 2 May.
Former IBF welterweight champion Shawn Porter has chosen the Filipino to win the bout for his versatility.
"For me I think that (Manny)is the favourite because he is a little more versatile than Floyd at this point in his career. I think Floyd likes to use his defense and counter punch while Manny does a little bit of everything and does it from a southpaw position. That is a great fight and hopefully I get the winner," Porter told boxing scene.com.
However, it would not be fair to count out the American very easily, as he has been one of the best boxers in the world for more than a decade. Mayweather has an impressive record, where he has not lost a single bout in his professional career, which has witnessed 26 knockouts in his 47 wins.
As compared to the win loss record between the two, it is the American, who stands tall against his fellow opponent.
Manny Pacquiao may have fought more bouts, but has lost five bouts and drawn twice in his career, which has seen him fight 64 times. He has knocked out his opponent 38 times.
Despite having an inferior record to Mayweather, the Filipino stated a few weeks ago that the American is afraid of him.
If stats do not lie, Mayweather is going to be a tough proposition for the Filipino.
Just a few days ago, it was Hall of Fame Referee Joe Cortez who predicted that Mayweather would win the bout considering that the American is an experienced fighter and being a champion for 17 years or so talks about the calibre of the fighter.
Irrespective of what the boxing world thinks about the bout, such predictions are a futile exercise, if the fight does not shape up, which is still in its negotiations phase.
It is the network deal between HBO and CBS owned Showtime, which has been the major obstacle for the bout.
Even Porter is not sure as to whether the fight would take place or not. "What is going to happen, man?" he said. "I honestly thought wouldn't happen and I told myself that I wouldn't pay attention to it until it is signed.''