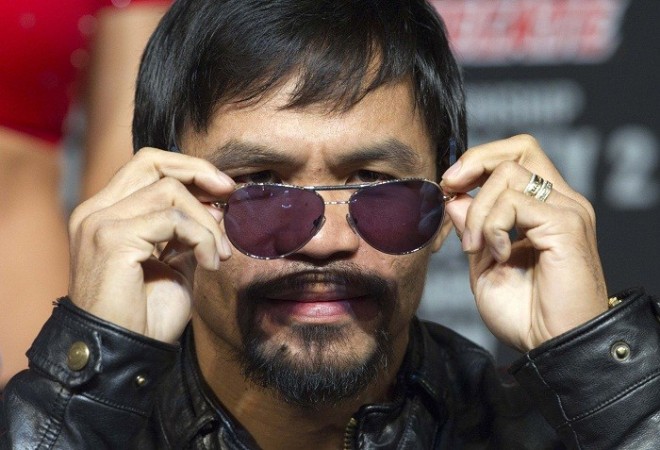 Manny Pacquiao's trainer Freddie Roach has stated that Floyd Mayweather will not fight Manny Pacquiao because he does not want to risk losing his undefeated record.
Roach's comments came in amid preparations of Pacquiao's rematch with Tim Bradley on Saturday. Only three weeks later, on 3 May, will Mayweather next fight Marcos Maidana at the same venue, MGM Grand, in Las Vegas.
"It looked close two years ago but I don't think Floyd will take the chance now," Roach said about the Pacquiao vs Mayweather possibility. "'Floyd's main concern has become keeping that zero (losses) on his record. I don't see him taking any real risk of losing that before the end of next year, when he says he's retiring.
"It's not that he's afraid of Manny. No fighters are scared of anybody in the world. It's just that he believes if he goes out undefeated he will be seen as better than greats like Sugar Ray Robinson, who had losses on their records."
Three years ago, boxing fans were hoping to see the duo fight but ended up disappointed, despite the news that the two had agreed on a 60-40 split in Mayweather's favour.
"Manny and Floyd should have happened a couple of years ago when both were in their prime," Roach said. "I think Mayweather wanted the fight then. Later when we put them on the phone together Floyd said he wanted blood testing and 60 per cent of the money.
"Manny said yes to both but then we never heard back from Floyd again."
It's been said that the fight has not taken place more because of the promoters, rather than the fighters themselves. A long standing rivalry between Oscar De La Hoya's Golden Boy (Mayweather) and Bob Arum's Top Rank (Pacquiao) is said to be the deciding factor in the no show.
"It's the promoters," Roach maintained. "I still believe that fighters are fighters and they want to fight the best. That's worrying. Years ago, Don King and Bob Arum hated each other but they still promoted fights together. That's not the case now with Golden Boy. It's a tough situation because the pool of fighters available to fight is getting smaller and smaller. We're going to run out of fights.
There are three more fights in the bag for Mayweather before he bids adieu - one scheduled for September and two others for next year - where he'll hope to equal Rocky Marciano's record of retiring unbeaten after 49 fights.
Roach hopes that Mayweather makes a wise choice in selecting his opponent. "It would be great if Floyd and Manny met in what could be the last fight for both of them," Roach said. "Down the years all the great fights which were supposed to happen did happen. Sometimes sooner, sometimes, usually because the fighters demanded it.
"Those are the fights for which they are best remembered. But it looks like in the future people will look back and ask why these two never fought each other."
(Ed: VP)